How to choose this product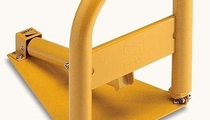 A parking hoop is a folding obstacle fastened to the ground for controlling access to a parking place. It is designed to withstand collisions; its rounded shape reduces the risk of vehicle damage.
Applications
These devices are frequently used in residential complexes and industrial parking lots. They also are installed along streets to limit access to parking places reserved for store customers and to loading zones.
Technologies
Operation of such barriers can be manual, automatic or via remote control. Some are solar-powered.
How to choose
Curbside parking barriers activated by remote control reduce the time the roadway is blocked.
Advantages
- Rapid operation