Parquet flooring
111 companies | 3929 products
How to choose this product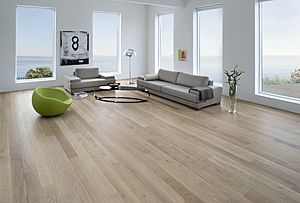 ArchiExpo offers a great variety of wood flooring, including engineered (certified or not), floating, tongue-and-groove strip and stratified. There is also a wide choice of wood types: oak, alder, apple, ebony, Brazilian rosewood, mahogany and other varieties.
Applications
Wooden floors are found in homes, offices and many other settings.
Technologies
There are several different types of wood floor:

- A solid floor is made of tongue-and-groove wooden strips nailed to a wooden subfloor or laid on another surface. It is then planed and waxed or vitrified.
- Mosaic flooring uses square panels 12 to 30 centimeters on a side glued to a concrete subfloor. They are sanded, then waxed or vitrified after laying.
- Densified flooring has been impregnated with resin, giving it great wear resistance.

- Engineered flooring is made of prefabricated interlocking panels. Hardwood is glued to another wood support and vitrified. This floating flooring is laid over a bed of sand, on particleboard subfloor or over incompressible insulation.
- Stratified flooring is composed of rigid, interlocking panels of synthetic resin whose finish resembles wood. Measuring about 20 by 130 centimeters, they rest on a foam layer.