How to choose this product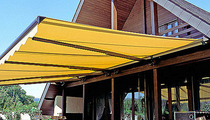 The patio awning protects from the sun's rays. The frame is usually attached to an exterior wall or above a balcony, and can be stationary or retractable. The fabric shading element can be made from a variety of materials.
Applications
These devices are used outdoors to shade private or public spaces, such as home, hotel or restaurant gardens, terraces or balconies.
Technologies
In retractable models, the awning is attached to two articulated, folding arms. Stretched flat when extended, it rolls around a shaft when retracted. The arms fold parallel to the shaft. Operation may be by manual crank or electric motor.
How to choose
Several criteria will determine the choice of awning:
- The size of the shaded area
- Robustness, including durability and resistance to wind
- Awning material (e.g., cotton, polyester, microperforated fabric)
- Usage, whether occasional, regular or frequent
- Fabric color, in terms of aesthetics and degree of heat, UV and light blockage
- Protected or unprotected when rolled up
Advantages
- Unobtrusive when rolled
- Very good solar protection
Disadvantages
- Professional installation required
- Must be retracted in strong winds