How to choose this product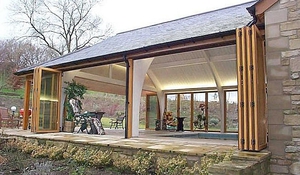 A patio door is a glazed door which allows visual contact between indoor and outdoor areas. It may be folding, hinged or sliding. Some open completely, unifying the indoor and outdoor spaces. On ArchiExpo, a patio door is classified by opening technology (hinged, sliding, etc.) or constituent material.
Applications
These glazed doors provide significant interior illumination and offer a view of the outdoor garden space, terrace or balcony. In addition to home use, patio doors are found in hotels, restaurants and other public settings to maximize illumination and facilitate movement from interior to exterior areas.
Technologies
Popular frame materials for patio doors include PVC, aluminium and wood.
How to choose
When choosing patio doors, consider the dimensions of the wall opening, which sometimes span an entire room. While this may ensure that the interior is well lit and unify indoor and outdoor spaces, extensive glazing exacerbates interior overheating in summer and heat loss in winter.

Ease of use and security features are prime considerations. Applicable local regulations regarding safety and energy efficiency should be observed. Double-glazed safety glass is more robust, energy efficient and safer than standard glass.