Pedestal side tables
How to choose this product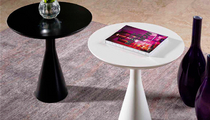 The pedestal table was originally a round table supported by a central column and intended to hold light objects. Three- and four-legged models appeared in the seventeenth century, becoming very popular under Louis XVI. Today, such furniture is found in every shape and style, including traditional, period, modern and design.
Applications
These tables are used in homes and offices, outdoors and indoors, depending on materials and design.
How to choose
Choice will depend primarily on intended use and location. These factors determine size and height, which may be adjustable, shape and materials, some of which are appropriate for exterior models. Table style should match the surrounding decor.
188 companies | 301 architectural and design products
1 products Drigani Galliano Snc
1 products Maffam Freeform
Original design
MINI

Maffam Freeform
"Maffam Freeform" is the only workshop in the world manufacturing furniture from volcanic basalt fibre. The talented Latvian designer Raimonds Cirulis has created and patented a unique furniture...
1 products Hudson Furniture
Filter by :
› New products

(12)

› Products with video

(1)
Refine the search
Pedestal side tables
Extend the search
Search by manufacturer
Search by catalog
Associated Terms
pedestal tables, pedestal end tables, pedestal snack tables