Perforated sheet metal panels
8 companies | 20 products
How to choose this product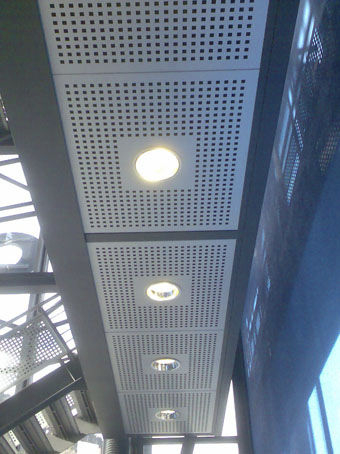 A perforated sheet metal panel is from three to 12.5 millimeters thick, with uniform, symmetrically arranged holes. These holes can serve physical or aesthetic ends and be of any shape, including squares, diamonds and circles.
Applications
These panels are widely used in construction for covering walls, facades and suspended ceilings. They are also found in banisters, steps and treads, perimeter enclosures, ventilation grills, gratings and furniture.
Technologies
Steel, galvanized and stainless steel, aluminum and other metals can be used to make such panels, each with its particular characteristics.
How to choose
Choice will depend primarily on type of metal as a function of specific panel use. Perforation design, dimensions and layout are important, especially in flooring, where it will determine load capacity and acceptable traffic intensity. Panel color constitutes another factor. Building codes and safety standards should be consulted.