How to choose this product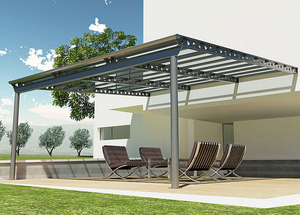 A pergola, or arbor is an exterior structure designed to protect a terrace or bit of yard from inclement weather, such as rain or excessive sun. It can be freestanding or attached to the wall of a house or building.
Applications
These structures are found in both public and private exterior spaces, usually to protect a terrace. They can also support climbing plants.
Technologies
Pergolas are built of wood or metal horizontal elements supported by posts. A removable covering of fabric or another material is placed over this framework to shelter the area from the sun or rain.
How to choose
Choice will depend on location, size and configuration, including flat, vaulted and undulating models. Wrought iron, wood, aluminum and other materials may be used for the structural elements. The covering can consist of adjustable slats, retractable or removable fabric or another arrangement.
Advantages
- Solid structure
- Often decorative
Disadvantages
- Permanent