How to choose this product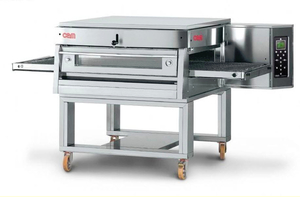 Pizza ovens are differentiated by their constituent materials, the number of cooking compartments they have, the type of fuel they use, the presence or absence of rotating trays or conveyors, and other characteristics. ArchiExpo offers a wide selection of ovens suitable for any professional setting.
Applications
These ovens are found among both commercial cooking appliances and bakery equipment on the ArchiExpo site.
Technologies
Technological developments in pizza ovens have led to the presence of a great variety of products on the market. Output has been improved by the use of higher temperatures, separate cooking compartments and rotary trays. Conveyor models provide rapid, precise cooking thanks to the steady movement of pizzas through the cooking chamber.
How to choose
Choice will depend on the nature of the establishment where the oven will be installed. Even more than with other cooked foods, the quality of the pizza may depend on the type of fuel and the physical relationship between the heat source and oven contents.

A wood-fired oven offers ideal temperatures for cooking pizza and focaccia, and represents real added value for your business. Electric models are more flexible and require less space. Cooking with gas is easier to master and can offer greater installation flexibility than with a wood-burning oven.