How to choose this product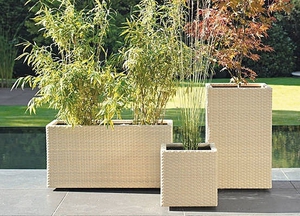 A planter (flower box) is a container, usually rectangular, for growing plants or flowers. It differs from a flower pot in that it is wider than high, giving it greater capacity. There are numerous types made from a variety of materials: terracotta, plastic, metal, etc.
Applications
Planters are usually placed in yards and on terraces, though they are also found indoors. They can be used to grow many different types of plants, including flowers, green plants, bushes and vegetables. They provide a bit of greenery where planting directly in the ground is not possible. Some are used to organize space, as in pathway borders.
How to choose
Size will depend on what will be planted. Intended location and style are other factors. For example, a brightly-colored plastic planter lends a modern note, while a terracotta model with molded designs creates a more traditional ambiance.