1 photo
plaster / classic / for masonry TRF/MU

TECHNICAL CHARACTERISTICS: TRF/MU is a REI 120/180 certified plaster for brick partitions with a thickness of 8 cm, capable of offering a passive fire protection to masonries, floors and pillars ensuring dimensional stability, resistance to gas and fumes and thermal insulation for...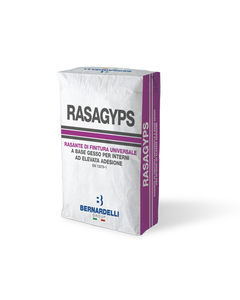 1 photo
plaster RASAGYPS

RASAGYPS is a pre-mixed universal soother in a white-coloured powder made up of calcium sulphate hemihydrate, hydrated lime, limestone aggregates, co-polymers, non-toxic additives in quantities less than 1% (consisting of modified celluloses...

1 photo
plaster / classic TRADITIONAL

We supply our lime putty plaster in three formulas and a range of sizes. Both our 2/1 and 3/2 mix are suitable for final coat internal plaster skimming. The mix ratios relate to: fine sand/lime putty, by volume. The 2/1 mix can...
Classic
Mike Wye Venetian plaster is made...