The Online Architecture and Design Exhibition

Frame and container made of steel, galvanised. Disposal opening reduced in size. Container can be tipped forward for emptying. Triangular lock. Insert made of PE plastic or metal. Also available with ...

Retrofit waste bin. Diameter incl. ring: 380 mm. Depth: 110 mm. Capacity 8 litre/60-90 tissues. Bags for RS3 size 50 cm x 40 cm. Surface colour white or black. Consists of: Ring, material: High polished chrome, natural brass, brushed ...
See the other products
VOLA

bathroom waste bin
BIRILLO by Piero Lissoni
Bathroom waste bin in PMMA, white. Width (cm): 18.50 Height (cm): 21.00 Length (cm): 18.50 Designed by Piero Lissoni is part of the family of objects for the bathroom Birillo It's been designed ...

kitchen trash can
SINK BASE
... customized solutions for sink base units which make daily life that much easier. Pull-out units for cleaning products or waste bins fit into the space perfectly and offer a wide range of options to make ...

kitchen trash can
SORTER 350 60
... kitchen base units. Each bin has a handle that can also be used to secure waste bags. The roll-out carrier is fully waterproof, simple to dismantle and easy to clean. Cabinet Size from 600 mm Dimensions 600 ...
See the other products
FRANKE

Structure in high density polyethylene resistant to UV rays with hinged lid and folding on the back by means of a pedal board. Rear handles, obtained during the molding phase, to optimize handling on solid rubber wheels assembled on axles ...
See the other products
DIMCAR s.r.l.

public trash can
NEXUS® 100 RECYCLING STATION
... Nexus 100 recycling bin with dedicated cup recycling features to offer an all in one solution for waste collection and recycling. This multi-purpose Nexus 100 recycling station includes the Nexus Cup Stacker as standard ...
See the other products
Glasdon Group Limited

public trash can
RECTANGULAR SORTING
PRODUCT 'S + Easy to empty (2 containers) Rugged (steel outer tray) FEATURES Epoxy steel outer containers Inside polypropylene containers Capacity: 14 L/qt Dim: W.270 x H.290 x D.210 mm
See the other products
JVD

hygienic waste bin
H24010
Shapely push waste bins which can be integrated in different space concepts because of their diversity in colour and size we recommend 10 litre waste bin ...
See the other products
Helit

public trash can
BOCA : 83718

public trash can
ARCHES : 186587
Part of the Designer Collection, the Arches Recycling Receptacle together with the Arches Litter Receptacle, Arches Bench and Arches Bike Rack are the ideal complements to our Evos® and Weevos® playsystems and other playgrounds with modern ...
See the other products
LANDSCAPE STRUCTURES

public trash can
BIN by Front
... basket that swallows more litter as you fill it. The Bin waste basket quickly attracted attention and was widely written about due to a design that radiates intelligence, individuality and innovation. Bin ...

hygienic trash can
00005690
... cleaning " The lid, the pedal and a special rounded shape make it easy to clean according to H.A.C.C.P. rules. " Equipped with a plastic bag-tightener to hold bags tight. " Available with coloured lids to encourage waste ...
See the other products
TTS

Plastic domed lid. ITEM NUMBER: MF3020 DIMENSIONS 25" dia. x 43" WEIGHT: 85 lbs. MATERIAL: Metal SHAPE: Circle CAPACITY: 39 Gallons WASTE TYPE: Trash
See the other products
WAUSAU MADE


kitchen trash can
MÜLLEX FLEXX
Just like sink and faucet, the waste disposal system is one of the most frequently used tools in any kitchen. Quality is therefore an important aspect. Müllex has perfected the disposal of waste - in design and material, in performance ...
See the other products
Suter Inox AG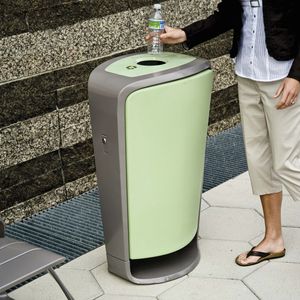 public trash can
COLLECT by BMW Group DesignWorks
... receptacles and a companion recycling unit share a distinctive profile and provide basic function with surprising flair. Collect mini bin answers the need for a smaller footprint while Collect litters address higher-capacity ...
See the other products
landscapeforms

A wide range of solutions for the differentiated waste collection. These offers fully satisfy all the needs and measures appropriate for the sink unit, they respect the hygiene and they help to correctly differentiate all types of wastes ...


kitchen trash can
SINGOLO
The practical bin on the cabinet door Bin with 14 l capacity, can easily be removed by lifting upwards Opens up with a cabinet door Removable bin cover with ...
See the other products
BLANCO GmbH + Co KG

public trash can
BASIC CR205
... reduce the volume of waste and preserve natural resources, recycling is a task we must all become involved in. A recycling bin in your kitchen will facilitate the daily work.
See the other products
ARREGUI

... efficient kitchen bin ideal for waste separation in the kitchen. Ease of use Fits in virtually every kitchen cabinet suitable for doors opening to the left or right Easy to empty and to clean two removable ...
See the other products
Brabantia International

kitchen trash can
BIG CAPACITY
The most common waste bins in the market have a capacity of 14, 15 or 17 litres which are very short to place wastes; however the problem is that we only realize when using them. In Mobalco we have ...
See the other products
MOBALCO

... requirements of each and every home. Special containers for waste disposal, be it with a bin hooked to the door so the lid opens when you open the cupboard or a range of bins of different sizes depending ...

hygienic trash can
NAPKIN
... saving, wall mounted design made of durable ABS plastic and features a rigid liner for easy removal and cleaning. FEATURES & BENEFITS Tight-sealing lid helps contain odors White, Black, Pink or Purple plastic ...
See the other products
Alpine Industries