How to choose this product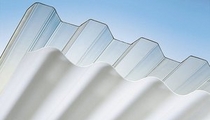 Polycarbonate panels are made of plastic. ArchiExpo offers a broad selection of hollow, honeycomb and corrugated models.
Applications
Such panels are suitable for roofs, facades and other uses in all types of construction.
Technologies
Hollow-core models are suitable for use on facades and for partitions, while corrugated versions are more appropriate for roofing. There are also honeycomb panels. Standard fittings and fasteners such as profiled aluminum and frames are available for simple, rapid on-site installation.
How to choose
Panels can have from one to three layers, depending on project needs. Various finishes, motifs and colors are available. Many different lengths and thicknesses are available.
Advantages
- Light, waterproof and translucent
- Easy installation
- Less expensive than glass
- Modular possibilities
Disadvantages
- Noisy in the rain
- Less attractive than glass