The Online Architecture and Design Exhibition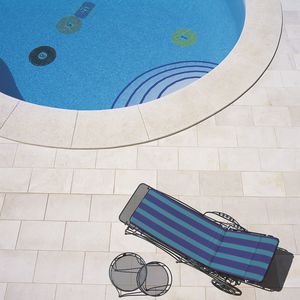 poolside tile
WHITE : CAPRI
A limestone with a snowy and elegant appearance, Capri has left a special mark on a wide range of projects.Capri is a stone that exalts the design of any project. Elegant and functional, it has clad the world's greatest auditoriums, convention ...
See the other products
Levantina

indoor tile
LAKE STONE T20
Thickness: 20 mm
To create a continuous effect between indoor and outdoor spaces, Ceramiche Supergres has developed, for Lake Stone, the prestigious outdoor flooring solutions in textured finish T20 and 2cm thickness, in four colours, Lake Grey, Lake ...

outdoor tile
PIETRA SAMARCANDA
Thickness: 1 cm
OUTSTANDING PERFORMANCE Non-absorbent (practically zero: E ≤ 0.04%), frostproof, resistant to deep scratches, wear, stains and chemical products. CONSTRUCTION AS NATURE INTENDED We build our materials without disturbing the balance between ...
See the other products
IRIS FABBRICA MARMI E GRANITI


poolside tile
PEPPERINO DARK CHISSELED
BELTRALINEA: strips 60/7/3 and 60/14/3 cm chisseled Tiles: 40/40/2 cm chisseled Tiles: 60/60/3 cm chisseled
See the other products
BELTRAMI NV

poolside tile
CROSS OVER : FOREST
Thickness: 1 cm
A wide range of colours, sizes and finishes giving the designer huge choice options to find the best solutions depending on the needs of the different premises. For flooring of public and commercial spaces and of common passage of private ...
See the other products
Century

poolside tile
GEOSTONE : URAL
Thickness: 1 cm
See the other products
Monocibec

poolside tile
FILTERFLOOR : LIEBANA BREZ
See the other products
NATUCER

... porcelain tiles Habitat contribute to the feeling of comfort at home. Their versatile design makes them suitable for indoor and outdoor use. Made of porcelain, maintenance and cleaning do not require a great effort. The ...

indoor tile
COTTO RUSTICO
MEETING ROOMS, MUSEUMS, HISTORIC PALACES, RESTAURANTS... Some material is created upon request for specific projects, so the terracotta can also fit perfectly in the USA for historic renovations of old or even contemporary buildings. ...

Frost-proof glazed porcelain stonewareFormats: 31x62 - 45x45 - 61x61 - 60x60 - 40,5x81 - 81x81

... the middle of the pool was made with precision and design We can also notice that we have red and green emaux de Briare's tile all around the pool

poolside tile
SPECIAL PIECES

indoor tile
HOTEL QUISISANA - ITALIA
More than thirty years experience in the realization of projects in natural stone enables the TESTI Group to constructively interact and dialogue with architects, specialists, and contractors from all over the world. This know-how guarantees ...
See the other products
TESTI

See the other products
ARTEMIS

Thickness: 3.5 cm
PERMANENCE IN AN EVER-CHANGING WORLD The Patika Stone Collection combines art and craftsmanship to create an exceptional honed and filled natural travertine. Design options of sizes, shapes, mosaics and decorative trim pieces abound in ...

poolside tile
BORRIOL/SAGUNTO

With saturated shades of smoke and aristocratic look, Belgium Stone offers the most beautiful and simplest form of stone. It promises a striking originality with its extraordinary forms for those, who want to experience the simplicity ...
See the other products
BIEN SERAMIK

bathroom tile
QUARZITE IRON GREY
See the other products
jaipur pietre


The ROCA POLAR series, with overflowing coping stone system, offers complete aesthetic integration between the interior and exterior of the swimming pool, thus allowing for substitution of the traditional glass mosaic with suitable technical ...

The warm buff to creamy grey tones, slight flecks and small fossils in Bath limestone make this stone instantly recognisable and gives its namesake city much of its character. It works well in all interiors and mellows further with age.
See the other products
Artorius Faber

parquet look tile
AMAZONIA
... appearance to the exterior platforms that are used in areas near pools or gardens, and natural advantages, durability, fastness and tile cleaning. Introducing five tipes of wood pino, teka, natural, nogal y roble and ...
See the other products
GAYAFORES

outdoor tile
CRACKED EARTH
Sophisticated, sustainable and symbolic, Hugo Bugg's design will highlight global water issues and demonstrate practical, year-round water management solutions for home gardeners. This is in keeping with the goals of the RBC Blue Water ...

See the other products
Alteret Cerámicas