The Online Architecture and Design Exhibition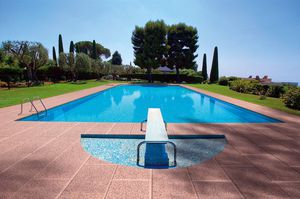 Thickness: 3.8 cm - 3.8 cm
For who loves natural stone a new version, the Canova sand blasted effect, has been added to the range of Canova slabs and is aimed at who is looking for compact and solid paving thanks to the sandblasting process which enhances the natural ...



outdoor tile
DOLMEN BEIGE
See the other products
Alcalagres

It is an extruded material that provides smooth and minimalist surfaces. This terracotta creates unique and functional spaces. It is available in three colors: straw, red and grey (vulcano). It is excellent for indoors use and has regular ...
See the other products
Ceramica Elias

outdoor tile
COUNTRY WOOD SABBIA
Dedicated to nature lovers who love to surround themselves with products inspired thereby. Dedicated to those who love rustic materials why not? used also in modern environments with essential furnishings.

See the other products
Perin

FLAG, conceived as diversity. Originality as an objective. Diversity as a tool. Ssimplicity as a starting point.

indoor tile
COMPACT : IVORY-ADOBE
Geometric rigour is reflected in a completely smooth paving and wall surface and perfectly even sides. For large surface areas, commercial settings and contemporary contexts. In 14 colours and 9 sizes.
See the other products
CITYTILE'S

outdoor tile
REALINK : NEW TEK-POOL ROBLE
See the other products
REALONDA

Peperino ¡s a stone derived from the hardening of volcanic rock along with residues of the degradation suffered by rocks during the first volcanic age. Consolidation took several centuries. As it is extracted from the most superficial ...


indoor tile
VILLA RAFFINATO
... with ornate patterns that they saw along the trade routes. Villa Raffinato is Pavé Tile's inspiration from this time in history. Using hand made Italian terra cotta tiles as their canvas, rustic and muted ...
See the other products
Pave Tile & Stone, Inc

... combine the beauty of natural stone with the latest technology and the creativity of VAL-TILE Thanks to the innovative and unique technique of laser engraving, VAL-TILE managed to get decorations and ...



Thickness: 12, 20, 30 mm
Lapitec® sintered stone slabs can be applied as cladding for outdoor swimming pools. High resistance to weather conditions and effective high-friction coefficient of "Fossil" and "Vesuvio" textures, make Lapitec® perfect both as cladding ...
See the other products
lapitec