How to choose this product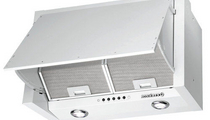 A pop-up extractor hood (also called a built-in or pull-out range hood) is normally hidden behind cabinetry in fitted kitchens. It removes cooking odors and fumes from the air, and is usually activated by pulling out a part of the cabinet, which turns on the fan and, in some models, an accompanying light. On ArchiExpo, these devices are arranged by properties such as style or material.
Applications
These units are intended primarily for domestic kitchens, offering compactness and/or ability to be hidden behind existing cabinetry. It may have features such as filters, variable speeds and built in lighting.
Technologies
Stainless steel, aluminum or other easily cleaned materials are often used to make these hoods. Most have grease and oil filters, some of which can be run through a dishwasher. Ductless versions have a charcoal filter which must be replaced regularly.
How to choose
Determine whether the hood will be visible or concealed by built-in cabinetry. The system may be vented to the exterior or recirculating. Other factors include type of lighting, extraction rate, fan noise and the possibility of variable speeds, energy efficiency and maintenance requirements. Consider how often filters and light bulbs must be changed, and how easy the extractor is to clean.