How to choose this product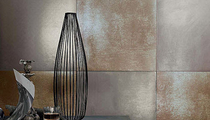 Porcelain stoneware tile is a variety of ceramic made from clay, quartz and feldspar fired at 1200° C. The resultant vitrification renders the material very compact and non-porous, with better mechanical properties than other ceramics. The tile is usually one centimeter thick, comes in diverse sizes and can imitate other materials, including stone, marble, wood, metal and even leather.
Applications
These tiles are used as floor and wall coverings in many settings, interior or exterior.
Technologies
Varying fabrication techniques produce tiles that are extra sturdy or non-slip, as well as sizes from mosaic to large.
How to choose
Choice will depend on the installation location and the tile's size and aesthetic qualities. Depending on intended use, a particularly sturdy or non-slip model should be considered.
Advantages
- Easy to install
- Withstands heavy traffic
- Non-porous