The Online Architecture and Design Exhibition

contemporary ottoman
FIONA
BRADLEY Amadi Twilight Navy Leather 48w | 48d | 18h Custom Sizing Available

Black Sheepskin Shimmer Pearl Resine Legs with Brass Caps 48w | 30d | 19h | 19sh Custom Sizing Available

contemporary pouf
TWISTER by Zeno Nugari
Filling: Highly resistant expanded polystyrene pellets. Features: Fully removable slipcovers.


See the other products
Sedit

contemporary pouf
BIG SQUARE
See the other products
Sedit

contemporary pouf
DODO : CKR2023 by Claesson Koivisto Rune
MATERIAL Base : Steel Seat: Plywood, Urethane Foam + Fabric SIZE W.725 X d.975 X H.510 / Sh.55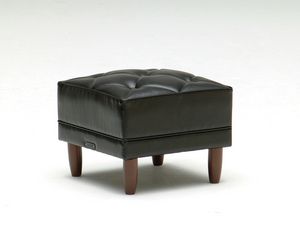 A simple and amusing pouf, which is easy to move. For use in both public and private environments where there is a need for additional seating. Flexible elastic textiles in lively colours accommodate every shape. Design ...

contemporary pouf
COCO BABY

contemporary pouf
ASIENTO Y MESA OU_ILUM
Chair and table with light designed to decorate any environment, both indoorand outdoor. The light's warmth and their ultramodern organic forms will decorate your rooms with current tendencies

traditional ottoman
PEARSON

classic ottoman
CONCORDE by GuillermoT
The images offered represent what has become our signature sophisticated style, christened by Latorre as Classic Avant-garde.
 Rather than cling to the past, our premium world seeks to reinvent, seducing with its unique and unmistakable ...

Footstool with hard wood structure covered in polyurethane with a protective fabric lining. Seat in polyurethane and Dacron. Completely removable fabric upholstery. Leather covering is fixed.

Filling in polystyrene microspheres. Remoivable cover

New Baroque design pouf
LITTLE PRINCE OF LOVE by G.Moro & R.Pigatti
Material Recyclable linear polyethylene, UV-steady for exterior use. Overall Dimensions L 54,7 cm / 21.5 W 54,7 cm / 21.5 H 43,6 cm / 17 Weight 7,5 kg / 16,5 lbs 7,5 kg

Wooden frame covered with high density polyurethan and feathers, upholstery in fabric. cm 84 x 84 x 39 H - m3 0,32 - G.W. Kg. 30,00

contemporary ottoman
NEWHALL
... and dacron padding. It includes a cylindrical cushion with foamed polyurethane and dacron stuffing. Its side bands match the pouf colour and help you place the cushion as you like.
See the other products
Domingolotti

traditional pouf
CIRCOLARE
See the other products
Domingolotti

Floor cushions from GAUCHO DESIGN combine naturalness with durable seating comfort. Their cover made of high quality Argentine cowhide creates a comfortable surface and provides stability in any position. Thanks to its excellent processing, ...

Structure with inner chambers filled with polyester pearls. Outside cover in cotton fabric, warm grey color with embroidered stitching. Seat top in woolen Khadi carpet. weight: 2 kg/mq cm. 65 x 65 x 35 h //

M+ seat element in soft version. This element can be combined with a back element. You can choose the number of elements you like to create your own unique couch. Weight 20 kg Dimensions 74 x 74 x 40 cm Stof soft Basisbekleding ARMY ...

contemporary pouf
FLORIDA

contemporary ottoman
DESERT MODERN
This iconic ottoman is upholstered in textured and distressed cowhide. Finish: Desert Teak Finish on Maple Solids Other Finishes AvailableStandard Features: Foamdown Cushion WeltlessMeasurements: W38 1/2" D38 1/2" H17 1/2" Metric Measurements: W98 ...
See the other products
Ralph Lauren Home

contemporary pouf
DESERT MODERN
Natural teak and exposed finger joints are highlighted in this solid teak cube. Finish: Desert Teak Finish on Teak SolidsStandard Features: Tight Top Plantation Teak Solids WeltlessMeasurements: W19" D19" H19" Metric Measurements: W48 D48 H48 cm
See the other products
Ralph Lauren Home