An elegant set of sponge with ETRUSCA logo and several complements available in various finishings: a refined style suitable also for the most exigent customers.

contemporary ottoman
ROOM 01
- VANITY fronts - DAVOS PLISSE' 900 ottoman - DAVOS 600 ottoman - COCCOLINO 500 ottoman - AMANITA ottoman

contemporary pouf
URCHIN by Christien Meindertsma
Description A thick strand of woolen yarn has curled itself up like a sleeping hedgehog, but is much softer to touch. Use this urchin pouf as a foot rest, side table, extra seat, or let it make you the absolute winner ...

contemporary ottoman
COLLABORATIVE
The Collaborative Ottoman provides casual seating for lounge environments or workstation applications. Exhibiting a playful and fun design, the ottoman can be upholstered in classic monotone or dual-upholstered ...

contemporary pouf
ELECTA by Archirivolto
Pouf with wood structure completely covered in soft leather with hide leather details and storage container covered in alcantara. The polyurerthane cuschion covered in soft leather is fastened to the structure with hide ...

traditional pouf
MONT-POUF 01

Material: Rubber EPDM + SBR recycled rubber. Measure: 39cm/ 53cm/ 96cm. Weight: 25kg / 80kg / 120kg. Coating / finish: Rubber EPDM (10%) and SBR recycled (90%) compacted mold. Installation: Mounting with bolts.

Material: Reinforced Concrete + EPDM / Kids: Rubber EPDM + SBR recycled rubber. Measure: 60cm. Weight: 95kg / 210kg. Coating / finish: Concrete acid etched and waterproofed. Rubber and mechanically fixed by polyurethane adhesives Installation: ...

contemporary pouf
DREAM BOAT
dimensions 90cm diam x 36cm h 35" diam x 14" h also available in 120cm (47") diam - please download pdf for details description circular pouffe on a solid base with castors fabrics nubuck/leather/c.o.m. colours nubuck - pewter/elephant ...

contemporary ottoman
DAXIE
• single dimensions 115cm w x 30cm d x 30cm h 45" w x 12" d x 12" h description lacquered or stained wood base with upholstered top fabrics nubuck/leather/horsehair/c.o.m. colours nubuck - pewter/elephant grey/gazelle/aqua/mushroom leather ...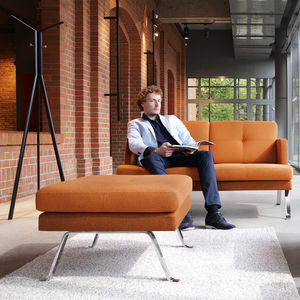 contemporary ottoman
OCTOBER by Hilary Birkbeck
October is an impressive collection of armchairs and sofas to complement the style of hotels, guesthouses and other public utility facilities. It is an ideal solution that suits both modern and traditional interiors. The October family ...
See the other products
Profim

contemporary pouf
WALL IN by Tomek Rygalik & Studio Rygalik
... developed to offer a highly versatile mobile sitting configurations, easily rearranged and adjustable. The family comprises poufs, armchairs, tables and linking units (30 and 60 degrees) completed with partition walls ...
See the other products
Profim