How to choose this product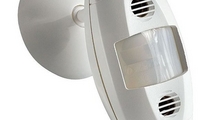 Presence detectors are equipped with highly sensitive movement sensors to optimize a building's energy efficiency and control its air conditioning, lighting, electronics and other systems. They are designed for interior use, generally in relatively calm areas such as offices and classrooms, in contrast to motion detectors.
Technologies
Three technologies exist:

- An active infrared (infrared barrier) system features an infrared light emitter and a receptor that detects transmission disturbances.

- A passive infrared device captures the heat emitted by objects within a specific area, and responds to temperature variations.

- Microwave systems can cover larger areas, their waves passing through walls and windows.
How to choose
Consider intended use, the coverage area and the required precision level. Be sure to examine the unit's technical characteristics. Consult a specialist to determine the best system, the number of detectors needed and their placement.
Advantages
- Comfort
- Energy savings
Disadvantages
- Purchase cost