The Online Architecture and Design Exhibition

Socket covers: white, ivory, ice, pearl, aluminium, dark grey Frames: 1-fold, 2-fold, 3-fold, 4-fold and 5-fold in a wide variety of colors and designs - See more at:
See the other products
ELKO

Multiple combinations up to 4 round push-buttons Optional white feedback-led integrated in the push-button and a red orientation-led in the center of the switch 14 ...
See the other products
CJC Systems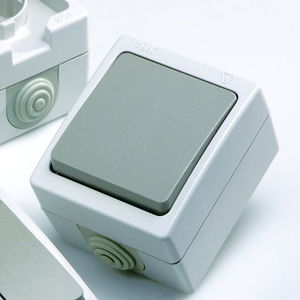 External One gang 2way; Single plug Schuko Type; External Double Switch The watertight switches (AC 250V 16A), sockets and buttons are ideal for external electrical installations where protection against ...

24 hour/7 day digital light switch which will automatically turn filament, fluorescent, low energy and low voltage lights ON & OFF at pre-programmed times. An optional dusk start feature turns lights ON at dusk and OFF ...
See the other products
Theben AG

... energy savings in buildings: 10 % saving in homes. 30 % in retail and offices. 40 % in hotels. 2-Function fixed timer switch Timed lighting to create two types of atmosphere.
See the other products
Simon

The multi-pushcontact, with or without microprocessor is capable of generating simple or complicated commands. This way the switch is completely integrated in the wall. The effect is a visual purity due to the entity ...
See the other products
VAN DEN WEGHE

"GI Gambarelli makes vintage-style components for electrical systems, using exclusively fine-quality raw materials." The main element in our switches, sockets and lighting is elegant, genuine porcelain, and products are made using the ...
See the other products
Gi Gambarelli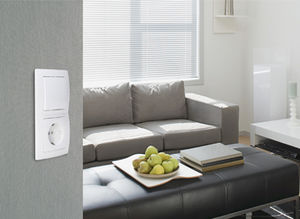 Double Rocker pad with arrows For switches: venetian CharacteristicsValue Article no.334488000 EAN4008224493543 Packaging unit10
See the other products
Heinrich Kopp GmbH

light switch
SKIN: NATURAL
... all wallboxes worldwide; allowing the use of round or square dry contacts for extra low tension systems in 4, 6, 8 or 14 push-buttons or 2, 3, 4 or 7 toggles in extra low tension or main tension. Each ...
See the other products
epic srl

light switch
PUSH BUTTON SWITCH - STONE COLLECTION
International multinational Group focused in providing Professional products and solutions in the hospitality industry. Luxury switches manufacturing , Home Automation , Access Control , World class hotels, Luxury Hotel Apartments, Hospitals ...
See the other products
Rhombus Europe

See the other products
Z.S.E. Ospel

... beautiful. Beyond rollers and scenarios, Vitrum offers temperature control for room climate adjustment, and a Master-On/Off switch to rapidly turn the system on and off with one single touch.
See the other products
Vitrum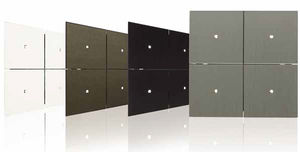 This design touch button, available in the same finishes as the touchscreens, gives an elegant and uniform look to your home. It is a very nice alternative for the rooms where you do not have a touchscreen but where you ...
See the other products
Duotecno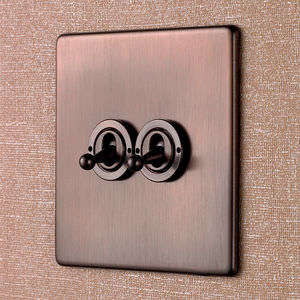 The pinnacle of design artistry and technical skill, the Penthouse Collection is home to our finest creations. Stylish lines and extraordinary skill come together to deliver a truly flush fitting flat plate design. The design for this ...
See the other products
Wandsworth

Self-powered wireless controls are simple to install. The Single and Double Rocker Pads use EnOcean energy harvesting technology to communicate wirelessly with other wireless devices and provide convenient control of lighting, temperature ...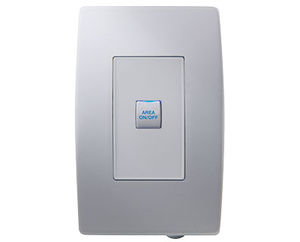 light switch
WI-FI CIRCA: WCS-1XXXXX
The Savant Wi-Fi™ Circa Switch (WCS-1XXXXX) is a wall-box device which provides switch/relay (on/off) control of the connected lighting load or relay device such as lights, fans and fireplaces. Connect ...

See the other products
Switch Prestige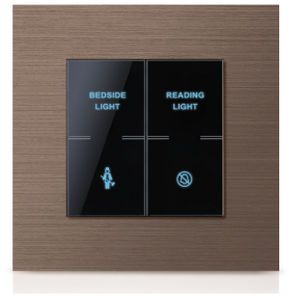 See the other products
Citygrow

roller shutter switch
EC52
Switch with basic functions EC52 - Can be used as locking or non-locking push-button switch - Can be integrated in many types of switchgear - One function per button: ...

home automation system switch

home automation system switch

UNIVERSAL CONTROL Individual wall-mounted wireless control



home automation system switch
1841027
Two channel RTS indoor wall switch for garage doors Description Simple two channels. Easy to set up RTS handset in wall switch design.

Tune in and turn off to save on energy costs Have you heard how you can save on energy costs? Switch to our ECONOSwitch 7-Day Solar Programmable Light Switch Timer. It helps you save money by ensuring ...
See the other products
Honeywell


GE's interior lighting control solution is scalable, highly flexible, and has stood the test of time. From a single space to multiple facilities, from simple schedules to advanced energy management systems...our solution can be easily ...