How to choose this product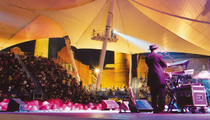 A PVC-coated fabric is made from cotton, linen, polyester, fiberglass or another material treated on one or both sides with PVC. The coating is designed to increase resistance to moisture and, in many cases, fire. Such fabric has great mechanical strength, making it suitable for use in tensile structures.
Applications
These fabrics are commonly used in tensile structures, such as swimming pool roofs, tents, awnings and other installations exposed to moisture.