How to choose this product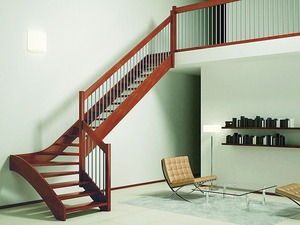 A quarter-turn (L-shaped) staircase has two perpendicular flights, with or without a landing. It often serves to optimize use of space. The turn is sometimes found at the juncture of two perpendicular walls.
Applications
Design of treads, handrails and balusters should take into account safety and ease of use, especially where children or elders will be using the stairs.
Technologies
The structural elements and treads of these stairways can be made of wood, glass, metal, concrete, steel or marble.
How to choose
Choice will depend on available space, height between floors, presence or absence of risers (lending a solid or ethereal appearance), materials and security aspects of banister design. Appropriate materials and design are required for exterior use where exposure to inclement weather is a factor.