For 16 level trolley - 400 X 600 mm Step between trays: 88 mm Max. temperature: 270°C Stainless steel body Glass door Motorized hood Lighting Timer General switch Steam generator 3 heating turbine Fan speed regulation ...
See the other products
caplain machines

... level trolley - 400 X 800 mm - Trays - Grids - Possibility to add an independent upper modular deck oven - Burner for gas oven
See the other products
caplain machines

... Retherm Heat-N-Hold Oven with Rack Product Features: Roll-In-Rack designed for moving school prepacked meals in baskets from prep area, central kitchen, commissary, or cooler into oven. Fully ...

General description Our furniture have a double stainless steel lining to improve insulation Our furniture are made of Duralinox for a lower weight and easier transportation 8 levels 600 X 400 spaced of 90 mm Gas power: 7,2 kW Width: ...


Multifunction oven CM 760 has a capacity of 50 liters , incorporating 1 deep tray and 1 rack . Aquasmart cleaning system .

- Stainless steel box with rounded corners - Rack tray holders, removable for cleaning (separation 80 mm) - RX304: perforated aluminum trays, including - RX / RXB: chrome grills, including - Double door tempered glass, ...

- Stainless steel chamber, AISI 304 and rounded corners - Removable rack tray holder for cleaning - Safety thermostat, water connection ¾ " - Timer 0-120 min. + Continuous cycle - Cycle end alarm, door microswitch ...

... equipped with double glass door, ducted inlet hood, high-density insulation, interior lighting with halogen lamps, detachable trolley and self-diagnosis. Adaptive-Power Technology ®: automatic energy adjustment based ...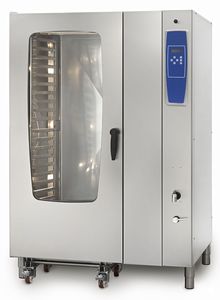 Our ovens offer, such as advanced steam cooking techniques, the regeneration of food, the use of food trolleys and buffet server warming drawers, and the use of chill/cook techniques. Its possible to add 6-rack ...