How to choose this product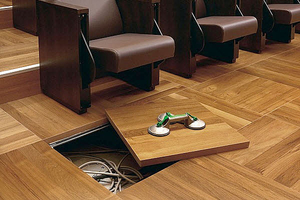 A raised access floor consists of a series of panels or tiles resting on supports attached to the subfloor. Support height is usually adjustable. The floor finishing material often is installed directly over the tiles, which usually measure 60 centimeters square.
Applications
This flooring system is common in offices, businesses and other interiors where a large number of electrical cables, water pipes, heating and air conditioning ducts, etc., run under the floor. It facilitates reconfiguration of the space. Exterior versions allow for the passage of water while the surface remains dry.
Technologies
The panels or tiles can be made of steel, concrete, aluminum, composites or other materials.
How to choose
Choice will depend on the load capacity and acoustic insulation qualities of the floor. The surface should resist scratching. The floor should be fire-retardant and not emit toxic substances.
Advantages
- Flexibility
- Accessibility