How to choose this product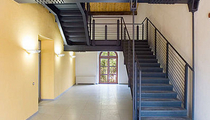 A floor panel is a thin, flat element of varying materials and formats used to create, insulate or cover a floor.
Applications
Depending on composition and physical properties, these panels can be structural, insulating (acoustic or thermal) or surfacing elements, including radiant and raised access.
Technologies
A host of materials may be used in the fabrication of such panels. Natural fibrous materials include solid or engineered wood, cotton and coconut fibers and wool. There are also mineral products, such as glass, glass wool, rock wool, cellular glass and cellular concrete. Polystyrene, polyurethane foam and other synthetics are used, as well.

Varying manufacturing techniques confer different physical and aesthetic properties, including insulation, resistance to water or fire and printed designs, such as wood finish.
How to choose
Choice will depend on the functional and technical requirements of the project and the physical properties of the materials. In the case of floor finish panels, aesthetics also play a role.