How to choose this product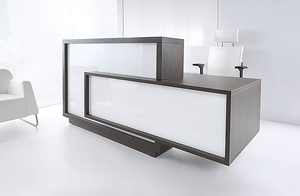 A reception desk is designed for welcoming or receiving people, for administrative tasks and as a monitoring station. On ArchiExpo, this furniture is arranged by such characteristics as constituent materials or intended installation area.
Applications
These desks may have special features such as a split-height work surface to facilitate different tasks. They may have transparent screens for security or panels to reduce ambient noise. Other options include shelves, holes for cables, built-in displays and lighting.

As the initial point of contact for clients or guests, the desk may have a bold design or attractive finish for a positive first impression. However, in some public or commercial buildings, the functional aspects may take priority.
Technologies
Laminated wood boards, solid wood, plastic, glass, steel and other materials are used in the construction of this furniture.
How to choose
When choosing, consider how much space is available and ensure that the desk does not hinder circulation. Storage requirements, number of simultaneous users and the reception parameters are other important factors. Verify maintenance and cleaning requirements, as well as the details of guarantees or warranties. Desk style should distinguish it from surrounding elements.