The Online Architecture and Design Exhibition

free-standing mirror
STAR SYSTEM by Xavier Lust
Anodised aluminum star-shaped farmed mirror. Technical information. Square. W. 130 D. 10 H. 130 Rectangular. W. 90 D. 10 H. 240
See the other products
DRIADE

free-standing mirror
OTERO by Studio Simon
Mirror with bevelled edge along vertical side, with matt or gloss polyester lacquered stand. Like an arrow-loop letting light peep through the wall. This elongated rectangle reflects back all that surrounds it
See the other products
Cassina

wall-mounted mirror
GRAPHIC
New generation – State of the art // Wall-mounted single styling station with digital print or for individual decoration, e.g. with your company logo, including glass shelf in white or grey, optionally with stainless steel foot-rest, ...
See the other products
OLYMP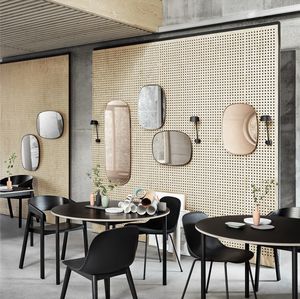 wall-mounted mirror
FRAMED by Anderssen & Voll
... frames with colored mirror glass, the Framed Mirrors is a gently artistic interpretation of the classic mirror. Though still functioning as reflecting glass, the colors, shapes and its ...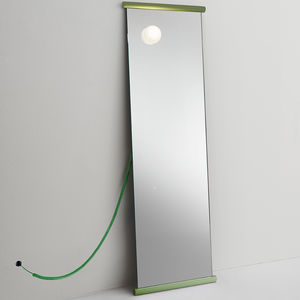 free-standing mirror
ECCO
Floorstanding mirror in 12 mm extralight glass, with detailed upper and lower edges of two cylindrical bars in yellow, green or black rubber, or in polished chromed metal. On the mirror there is a high ...
See the other products
GLAS ITALIA

wall-mounted mirror
NARCISO H 80 CM by Benedini Associati
The Narciso range of mirrors features adjustable side mirrors with exposed chromed brass hinges which allow them to rotate by 180°. New dimension available 80 cm height.
See the other products
AGAPE

wall-mounted mirror
ANTARES
... dominated by an excess of objects, the ANTARES mirrors promise to simplify and facilitate your daily routine. Discover the 2-in-1 practical solution whose volume incorporates a practical magnifying mirror ...
See the other products
sanitana

free-standing mirror
S110.F36
Reflections in a timeless atmosphere with lights that work together in order to createa dreamlike bathroom ambience: elegant details style your bathroom.

Mila Mirror Relief in Silver Rectangular mirror – isn't it a regular shape? However, +Object designer's team has absolutely another vision of every element of décor. This project also ...
See the other products
+Object

wall-mounted mirror
SALVADOR
... juxtapositions. The simple act of peeling back the mirror frame creates unforeseen reflections that rebound from the central mirror and resonate light around. - Polished brass and smoked oak. ...

wall-mounted mirror
SECRET
Rectangular mirror, part of Original Sin collection. Made of honeycomb ebony, 100 Gloss shiny finish or white mother-of-pearl, beveled mirror, base in galvanized metal, glossy 24k gold ...

wall-mounted mirror
SEVEN YEARS
The Seven years wall mirror is made of security-glass, mirror hit by gunshots and Gold wooden frame. Mirror dimension: L 180 x W 105cm. Each mirror is hand signed and ...
See the other products
Barberini & Gunnell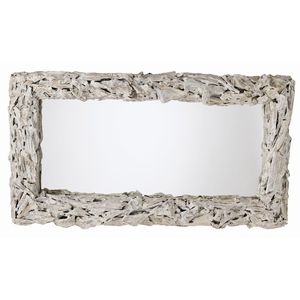 wall-mounted mirror
BODEGA
Rectangular wall mirror framed with interlocking pieces of natural driftwood in a white wash finish. Can be hung vertically or horizontally.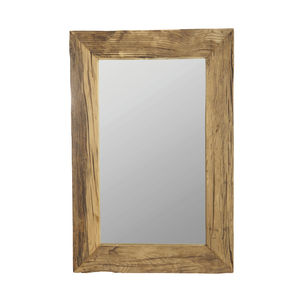 wall-mounted mirror
BN0300
Mirror w. frame, Pure Nature, 60x90 cm, Recycled wood, Finish may vary, Irregularities in wood may appear MaterialThis product is made from recycled wood. The wood variety cannot be defined. Washing instructionsThe ...

free-standing mirror
53201 BOTTICELLI
Mirror mirror on the wall… Our mirrors are handmade with precious finishes. Plays of reflexes amplify the harmony of the ensemble and provide the environments with unexpected depth.

wall-mounted mirror
GREY by Francesc Rifé
A collection of consoles comprising a back panel with a smoke grey mirror and a drawer in the same material. Optionally, the base of the drawer can be fitted with LED lights for indirect lighting. Available in two versions ...
See the other products
KENDO MOBILIARIO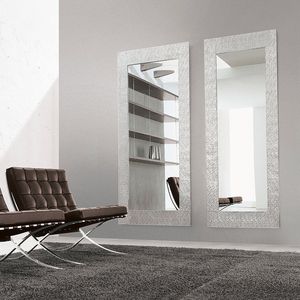 wall-mounted mirror
LOOK AT ME by Bruno Rainaldi
Look At Me wall mirror with hand decorated,cast aluminium frame. The floral details are of Renaissance inspiration, carried out by hand with a relief effect. Height: 210 cm (82,7") Width: 93 cm (36,6")

wall-mounted mirror
ICS by Roberto Lazzeroni
Mirror with frame made in solid oak and veneered poplar plywood. L/W 160 - P/D 5,5 - H 160/ cm. L/W 120 - P/D 5,5 - H 120/ cm. L/W 140 - P/D 5,5 - H 70/ cm. L/W 70 - P/D 5,5 - H 180

Mirror with digital printed decoration. MDF support panel. Vertical fitting. Cleaning : Use only a microfibre cloth, soaked in water. Do not use solvents, thinners or alcohols which would dissolve the decoration. H. 200 W. 60 D. 2,5
See the other products
Casamilano

free-standing mirror
MR03 NARA by Philipp Mainzer
This mirror is placed on the floor and simply leans against a wall. There is an eyelet on the rear enabling it to be secured with a wall in place. The mirror is framed with a 3 mm (1/8 inch) thick stainless ...

free-standing mirror
EROS
Covering as seen: Leather art. Cerbero col. Sabbia cat. 950. h.100 D.7 L.200
See the other products
Mantellassi 1926

wall-mounted mirror
MEDINA
Medina mirror, the product is available in different sizes. As shown, copper look. H120xW40xD4cm.

wall-mounted mirror
20-831
Length: 76.5 cm Height: 93 cm Width: 0 cm Can be hanged either horizontally or vertically. Also available with ancient mirror.
See the other products
DeBaggis

CHARACTERISTICS Measures in cm (LxDxH) 100x3x68
See the other products
LE FABLIER

wall-mounted mirror
FRAME by Maurizio Peregalli
70 x 4 (thik) x H 180 cm - base 68 x 30 x H 9 cm Frame: phosphatized sheat steel - silver
See the other products
ZEUS