The Online Architecture and Design Exhibition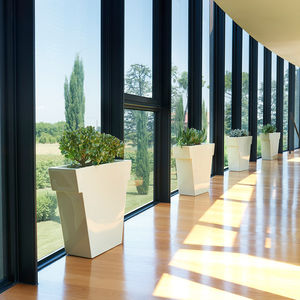 polyethylene planter
IL VASO by Giò Colonna Romano
Il Vaso is the minimalist version of the classic flower pot: it keeps the shape buti t hasn't got the same depth. So, Il Vaso becomes a functional and inusual decorative object ideal to both indoor and outdoor settings. Versatile and ...
See the other products
SLIDE


See the other products
GLS Prefabricados

polyethylene planter
LLUNA by Joan Gaspar
... alongside a pool. Marco Serralunga explains the project: "Our project of garden planters continues. My company was the first to create this innovative concept of use for a normal planter with this added ...

aluminum planter
FLOWERPOT
... notice boards, cycle holders, internet stations, gazebos all complete and enrich the seating arrangement. Loco / Flower box / Flower box galvanised steel and brown embossing powder. / aluminium liners ...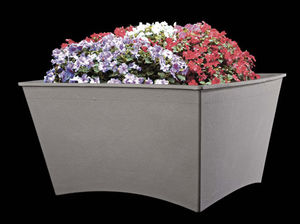 aluminum planter
IDESIA by Yves Corminboeuf
... Saiph posts. A large-sized bin for city use, an undulated bench with LED lighting to make it visible at night, a modular planter and a bicycle parking rack. MATERIALS Cast iron and aluminium. FINISHES The standard colour ...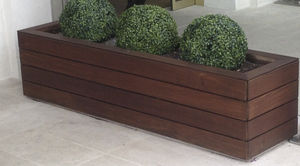 ... any type of outdoor furniture you can imagine: composite benches, pergolas for a parking space, tables, chairs, benches, planters, urban gardens, street furniture, and decorations elements to suit the needs of companies, ...

... better than a touch of green or colour to decorate your terrace, balcony or garden. This is why grad offers you two wooden flower box ranges. Let your imagination run wild with the styles and choose wood + raw steel or ...

recycled plastic planter
ART. 510
Similcotto imitation terracotta products provide a touch of warmth to the environment thanks to their shape and selection of delicate colours. They will show no sign of ageing even after many years of exposure and are ideal for both ...
See the other products
ARCAVASI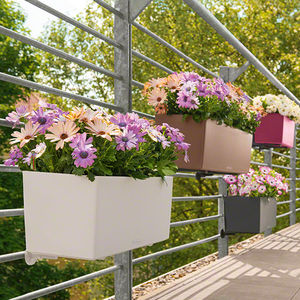 plastic planter
BALCONERA
... plant the liners on the ground or a potting table. Attach BALCONERA to railings or walls and place the potted liners into the planter. That's it! Accessories: LECHUZA balcony brackets: Fit BALCONERA 50 and 80, suitable ...
See the other products
Gover Horticulture LLC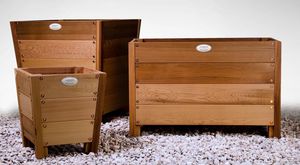 ETUDE is one of the most universal planters in our range. It is available in two sizes of truncated pyramid or a rectangular shape, making it an excellent choice for any environment. It looks appealing ...
See the other products
Vintigo sp. z o.o. Sp. k.

polyester planter
VAS-FLP-GRN
Vase design iron, suitable for interior and exterior, complete with adjustable feet and drainage. Made of galvanized sheet steel, virtually indestructible. SKU: VAS-FLP-GRN Vase iron suitable for both external and internal applications. ...
See the other products
FUSAROMARIOSRL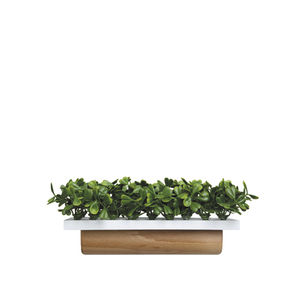 wooden planter
URBAN UMG PM
See the other products
SUNSET CREATION

Height 45 см Length-Width 180-50 см Weight 250 kg

fiberglass planter
BASKET WEAVE (M)
This little plant container is very elegant in design with a deckle-edged top and classical acanthus leaf corners and feet. It is a charming size and particularly suited to planting up with small alpines to complement the design and show ...
See the other products
capital garden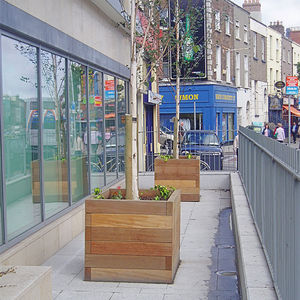 Woodscape Modular Planter System provide a means of building planters in a range of shapes and sizes that are quick and easy for on-site assembly. Planters are manufactured in Naturally ...
See the other products
Woodscape.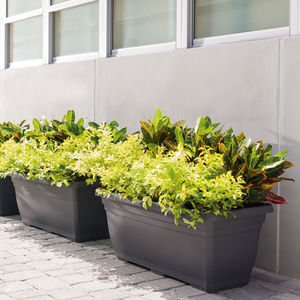 Great barrier planters. Includes metal insert to control bowing when potted. Casters and Saucers sold separately. Mix and match colors with Emma planters.
See the other products
CRESCENT garden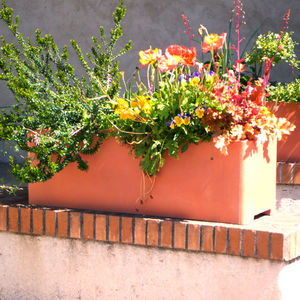 polyethylene planter
CLASSICO RECTA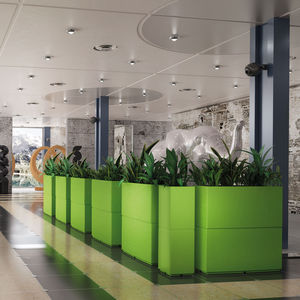 polyethylene planter
PATIO
Delimit ample spaces with elegance but without reducing the breath. Perfect for halls, restaurants, shops and in general any open space.

stainless steel planter
JUNGLE
... new design of bright luxury boxes; they are designed to enhance any type of space, either inside or outside. Illuminated planter Jungle, as its name indicates, represents the nature dressed as flowerpots. It is inspired ...
See the other products
Fesfoc

concrete planter
344 N -349 N
See the other products
Mago Urban

concrete planter
WESTMINSTER
Manufactured from standard grey precast concrete with our acid etch finish. All our concrete products are sealed prior to dispatch. Specifications Length 1800 mm Width 600 mm Height 450mm Weight 710 kg Options Colours ...

... Sheldon Planter SPL305 is a standard planter style, customising the?height, length, width and shape to each specific project requirement. The four ring and over hanging top piece planter ...
See the other products
LANGLEY DESIGN

... other accessories which we can assist you with your large garden parasols: Speakers Soft Seating Wooden Bench Seating Planters (to cover portable bases) If you have any ideas you would like to discuss please ...