The Online Architecture and Design Exhibition

polyethylene planter
JARDINERASPRFV
Flower beds made in GRP. Gloss finished. Great resistance to the elements. Available in different sizes and colours

stone planter
RETKUBE 100
See the other products
Blive

The MITER Planter System brilliantly combines elegance with versatility. A beautifully considered stainless steel corner detail lends refinement and character to a system that can be configured to accommodate a variety ...

Magnuson Group now offers a beautiful and modular planter. These modular containers offer several arrangement possibilities.The RAIL planter family features a series of flowerbeds of various sizes that ...

steel planter
WIDEPOT by Luca Pegolo
Description: The geometric scheme of the steel structure can be used as a pot or cachepot. Widepot features a low and long shape which makes it ideal for modular use, to create a colorful bush with flowering plants.
See the other products
Nautinox Living

Compact laminate rectangular planter. Vertical slats. Galvanised steel frame. Container with water tray and overflow. Supplied in kit form. Optional adjustable legs. Contact us. Length: 1,085mm Width: ...
See the other products
BUTON INDUSTRIES


wooden planter
RAISED GROW BOX
The Raised Grow Box is an easy way of setting up a small garden on the balcony or terrace of your home. The easy-to-assemble kit includes everything you need for creating a kitchen garden or a delightful flower bed: a raised grow box, ...

SAY IT WITH FLOWERS Elegant flower tubs to match every whim. A whole collection to discover : Flower containers and traditional window boxes Tubs on casters Modular, customisable tubs Trellis containers Maxi-size tubs Designer mixed ...

Intricate wirework is a delightful 19th century concept that creates strong, durable and lightweight furniture. The Marston & Langinger Victoriana Wire range is made in England and galvanized to protect against corrosion. Every piece ...

concrete planter
505B - VIA
Rectangular trapezium flowerbox in sandblasted concrete, covered in painted ABS. Dim. mm 520x720x590 h - 290 Kg Patented model

Available in the following sizes HPRE1LGRO Diameter: 100 x 60 cm Height: 60 cm Border: 6 cm Color: Light green HPRE2LGRO Diameter: 120x80 cm Height: 80 cm Border: 8 cm ...

metal planter
TERRA-SCREEN®
A planter designed to ensure proper root behaviour in your plants. It contains hydroponics systems that will reduce maintenance cost and improve plant survival. We can combine different planter sizes ...
See the other products
Breinco

concrete planter
LINEA MEDITERRANEA by Marcello Michiara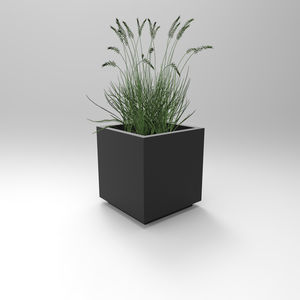 fioriera 550x550 mm H=550 + 40 fioriera 550x550 mm H=1350 + 40 fioriera 715x715 mm H=550 + 40 fioriera 950x950 mm H=550 + 40 fioriera 1200x1200 mm H=550 + 40
See the other products
CITYSI srl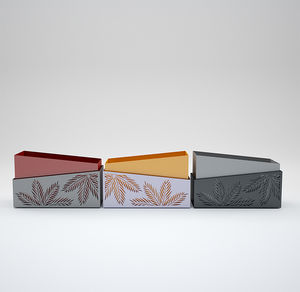 COMPOSITION: Steel structure for mounting to the ground, laser cut, bent, galvanized and painted; at the base, there are 4 holes 14 mm for fixing to the ground. Structure that contains the vessel is in galvanized steel, , in-folded ...
See the other products
CITYSI srl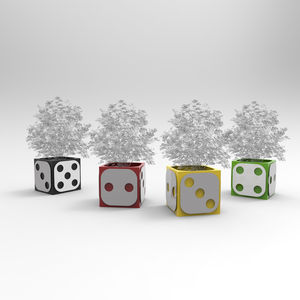 COMPOSITION: Structure laser cutting and bent, in galvanized and painted steel. Base in galvanized and painted steel with 4 holes to fix it to the gourn. External laser cutting Plate in galvaized and painted steel ensure to the structure ...
See the other products
CITYSI srl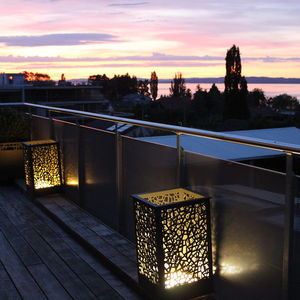 HPL planter
BALCONY EQUIPMENT
Flower boxes and illuminated perforated boxes without screws. Country / Place CH/Uttwil Name of Project: Balcony Equipment Product Category: Garden/Flower Boxes Material: CELLON®, 8mm Perforation: 50100 Colour: ...

steel planter
MALAGENO by David Karasek
A new range of planters with self-irrigation. Sheathing panels made of aluminium sheet bent over corners are asymmetrically divided and provide the product with its distinctive and unique look. Thanks to the simple shape, ...

galvanized steel planter
VÉLOPARK
Height : 42 cm / Width : 51 cm / Length : 39 cm / Structure and interior liner / Galvanized steel sheet, thickness 4 mm / A 30 liters polyethylene liner dressed by a steel shell thickness 2 mm /

stainless steel planter
100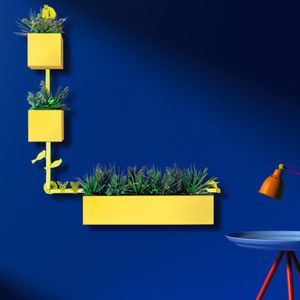 ... Stabilized hydrangea bouquet, optional colours. Lichen balls, optional colours (suggested diameter for big flower box 25/30, for small flower box 20/25) Flat moss balls, ball moss, ivy. Alix ...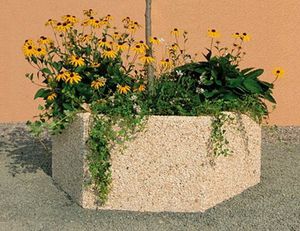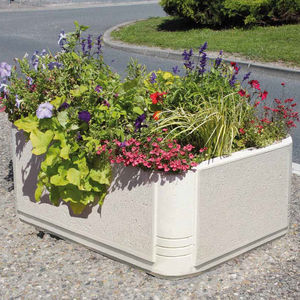 concrete planter
ISIS by Alberto Ferreira

Flower planters made in an oxiron lacquered iron plate, the lower part is designed to facilitate the transport (by forklift) with feet. Optional : • Lacquered in other color plastic or stainless steel finish • Bricat ...
See the other products
Ado urban

PREI flower planter made in Corten steel with Bricat finish (varnished), thanks to this finish the aspect is more smooth and elegant over the whole surface of the flower planter. The standard finish in ...
See the other products
Ado urban

Rectangular RESTA flower planters made with an iron or Corten steel plate, ideals for restaurants, bars or terraces, drawn to make the space more profitable, compared with the conventional flower planters.
See the other products
Ado urban


galvanized steel planter
CUBICA
The CUBICA A squared base planter is made of 20/10 thick cold galvanized and polyester powder coated steel. The base is raised of 50 mm. On the bottom there is an overflow hole made of a steel tubular, section 16 x 2 ...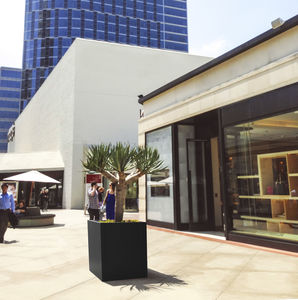 galvanized steel planter
VALENCIA
Available in square and rectangular shapes. Four options with different capacities and heights are available. Metal inner-liner suitable for easy removal. Optional: deposit with self-irrigation Drainage holes in the base. Adjustable ...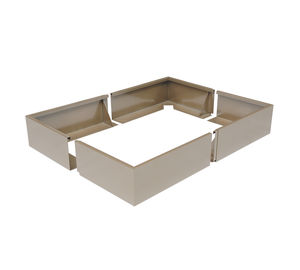 stainless steel planter
HOCHBEET MODULAR