How to choose this product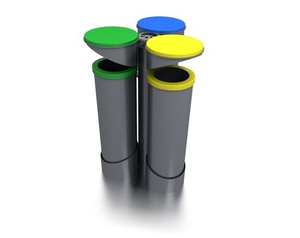 Recycling bins allow recyclable domestic, commercial or public waste to be sorted for collection. It may be designed for interior, commercial or exterior collective use. Many may have specially shaped openings to discourage misuse or mixing items of different categories. On ArchiExpo, bins are arranged by intended setting (e.g., commercial or public) and extra features, such as a built-in ashtray.
Technologies
Galvanized steel, plastic, aluminum and other materials are used to make these bins. While metal bins better resist vandalism and fire, they can be harder to maintain and clean, and are subject to corrosion.
How to choose
Consider bin capacity and intended location, be it for household use, a public space or a collection point. Determine the waste sorting methods of the local area. Posted instructions should be easy to follow. Openings can be color coded and of different sizes and shapes to limit the mixing different types of recyclable items. Ensure that the openings are easy to reach and that bin capacity is appropriate for the frequency of collection.

Bin material should be suitable for the deposited items. It may have to be fireproof and resist scratching, staining, chemicals and harsh weather. Verify ease of cleaning and maintenance. The style of outdoor models should fit the intended environment unless hidden from view.