How to choose this product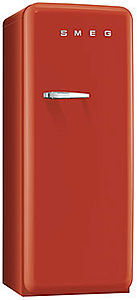 The refrigerator is a key household appliance, remaining on 24 hours a day and consuming more energy than any other. Basic configurations include the two-door, top- or bottom-freezer model, the compact under-counter refrigerator, side-by-side and one-door models.
Applications
Refrigerators are found in homes, businesses, restaurants, bars and fast-food outlets.
Technologies
Stainless steel is the best-known finish, though refrigerators come in many different colors. Style is not the most important aspect, but several manufacturers have had success with a retro line.
How to choose
Capacity ranges from 100-150 liters for one person to 300-600 liters for five people. Other factors include energy consumption and manual, semi-automatic or automatic defrosting system. American refrigerators carry Energy Star ratings, while the European Union uses the term Eco-label.