How to choose this product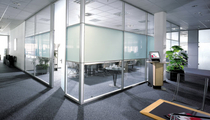 A removable partition is a thin, light space divider comprising a framework, usually wood or aluminum, holding panels of glass, metal, wood or another material.
Applications
These items can be found in nearly all settings, including homes, offices, shopping centers and industrial buildings.
Technologies
Partition design and materials confer varying characteristics. They can be self-supporting, impact-resistant, fireproof, provide thermal or acoustic insulation, among other functions.
How to choose
Choice will depend on materials and fabrication, technical characteristics and the aesthetic qualities of the finish.
Advantages
- Light weight
- Rapid installation
- Reusable