The Online Architecture and Design Exhibition

copper serving tray
OFF THE MOON by Dariel Thomas
Like the moon reflecting into a mirror of water, a brass tray with copper finishing in polish pink. The simplicity of lines emphasizes the decorative sphere while evoking the mesmerizing beauty of the universe.

ash serving tray
by Jaime Hayon
Measurements: Ø 32 cm / H 26 cm This Jaime Hayon tray is the sofa's best friend - simultaneously expressive and functional. The handle provides an extra dimension as both a sculpture and a functional tool to move the ...

stainless steel serving tray
TWOFOLD by Yoony Byun
A stainless steel spoon rest with nylon hinges that allows you to rest multiple utensils on at one time. Fold out to 2 spoon rests so you can use multiple utensils at one time Folds together into one spoon rest for space saving ...

wooden serving tray
MANHATTAN
... COUNTRY OF ORIGIN: USA INVENTORY ITEM: NO - MADE TO ORDER WEIGHT: 4 LB WIDTH: 35.3 IN HEIGHT: 4 IN DEPTH: 35.3 IN Wood tray with oval cutouts on the sides in a low sheen black lacquer. High gloss lacquer finish ...

plywood serving tray
by Alexander Girard
... playfulness to twentieth-century design that had been absent from the austere aesthetic of classic modernism. The Classic Trays, which are made of laminated plywood, come in assorted motifs created by Girard for various ...

wooden serving tray
GEMMA by Sebastian Herkner
... Gemma is a range of containers with lids that also act as trays to protect and, at the same time, ensure all the objects and products usually used in a bathroom are readily at your disposal. The trays ...

wooden serving tray
BATH BRIDGE by Peter Jamieson
material:solid surface k|stone® code matt finish:0600-058-01 code glossy finish:0600-058-02 colour:white ral 9010. dimensions:90 x 15 x 3 cm (l x w x h) weight:– fits:pearl, glow, pride, prime, moon packaging:solid carton box tara:10kg ...

steel serving tray
NARCISSE by Margaux Keller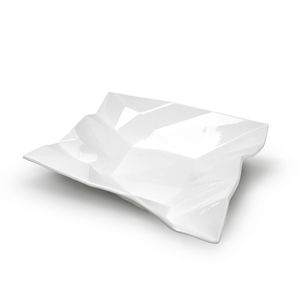 ceramic serving tray
D290.068
HEIGHT 8 CM - 3.1" WIDTH 33 CM - 13" DEPTH 33 CM - 13" TYPE Superior Quality Ceramic COLOR Shiny White
See the other products
Le Présent

ceramic serving tray
D300.068
HEIGHT 10 CM - 3.9" WIDTH 50 CM - 19.7" DEPTH 19 CM - 7.5" TYPE Superior Quality Ceramic COLOR Shiny White
See the other products
Le Présent

mahogany serving tray
PARAGGI by Ludovica + Roberto Palomba
The detail that distinguishes the outdoor atmosphere. Handcrafted tray in solid sapele mahogany, with strips in varying widths.

wooden serving tray
WRONGWOODS by Richard Woods & Sebastian Wrong
... Sebastian Wrong can be admired in use and on display. An extra special gift for art lovers or a headline for your home office the Wrongwoods Tray and Wastepaper basket bring with them irresistible colour ...

copper serving tray
MIX & MATCH by Flavia del Pra
... origin. The collection adds a new twist to classic concepts with innovative shapes, copper and ceramics.Bowls, side tables for serving and presenting food, pedestals that give pride of place to a work of art or a lovely ...

Simple wooden tray set cut from a solid piece of material. The set includes a set of two nesting trays and three breadboards. Uncompromising in design and quality, Tray is sustainably ...

metal serving tray
SNACKLIGHT
... in style with the Snacklight. This oversized tray is suitable for any occasion. A night of snacking on the couch, a fun drink with friends or a garden party, the Snacklight gladly lends a hand when serving ...

... flexibly. It can turn THE POUFFE S and L into a useful table in no time or allows to serve refreshing drinks as a stand-alone tray.

wooden serving tray
CROSS by Thinkk Studio
... x 3,9 (large) / 14,5 x 8,6 x 1,5 (medium) / 11,8 x 11,8 x 2,7 (small) Materials : lacqued wood CROSS tray is part of a range of lamps and trays. The project started by a question : what If traditional ...

concrete serving tray
OCTA CL
This decorative plate OCTA is inspired by the lamp of the same name. It is made of concrete and can be plated in gold leaf, silver or copper. Two sizes: 42 x 42 cm L S 30 x 30 cm.

wooden serving tray
ARTE ALVAR
MATERIALS birch, white laminate SURFACE FINISH natural oil mixture DIMENSIONS Width 570 mm Height 35 mm Depth 330 mm

brass serving tray
ROULÉ by Pauline Deltour
... created Roulé, a collection of bowls, trays and coasters in copper and brass. Her otherwise minimal designs are lent a simple elegance by the distinctive "rolled" edge from which the collection takes its name. This Roulé ...

wooden serving tray
VASSOIO