How to choose this product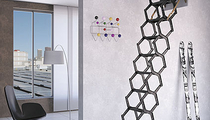 The attic staircase unfolds to provide access to infrequently used spaces, such as garrets and lofts. When not in use, it folds up and out of the way, often into the space above the ceiling.
Applications
Folding staircases are usually used for occasional access to elevated interior spaces. Their reduced size and steepness make them awkward to use, but this inconvenience is outweighed by the savings in space and their infrequent use.
Technologies
There are three common forms of attic steps.
- Telescopic stairs have an accordion-style extension mechanism and are usually made of aluminum.
- Sliding stairs have one or more segments, usually of wood or aluminum, which slide to the floor when opened.
- Folding stairs are made of two or more segments, usually of wood.
How to choose
Choice will depend on available space, weight capacity, private or commercial use and, possibly, aesthetic aspects.
Disadvantages
- Awkward to use