Reversible cassette air conditioners
How to choose this product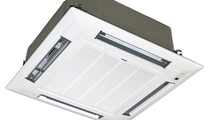 A reversible cassette air conditioner is a split-system device, with an interior unit in a false ceiling and an exterior element. Its reversibility allows it to cool or heat, according to seasonal need. ArchiExpo offers a wide range of split-system models, listed by type of interior unit: cassette, ceiling, duct, wall-mounted, floor, etc. There also is a large selection of reversible models: split system, multi-split system or monobloc.
Technologies
These appliances comprise two units. The interior air-treatment element, including an evaporator and a centrifugal fan, is mounted in a false ceiling. The exterior unit holds the compressor and the condenser. The two are linked by electrical and coolant lines. By reversing the air cycle, these units can cool in summer and heat in winter.
How to choose
These systems can be used for cooling and heating in any setting with a false ceiling, including stores, businesses, apartments and houses.
Advantages
- Year-round climate control
- Economical
- Optional inverter
- Less noisy than monobloc units
9 companies | 28 architectural and design products
2 products LG Electronics
2 products MITSUBISHI ELECTRIC
1 products Palm A/C & Equipment Co.,Ltd
Filter by :
› New products

(0)

› Products with video

(0)
Extend the search
Search by manufacturer
Search by catalog