How to choose this product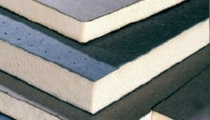 A rigid panel, whether functional or decorative, maintains its shape and structural integrity when subjected to external forces. Constituent materials confer specific characteristics, such as insulating, moisture resistance or fire-retardant properties. The surface can resemble wood or have a printed or other design.
Applications
These panels are found in access and radiant floors, suspended ceilings, walls, partitions, roofs and other structures.
Technologies
Various techniques and materials are used to produce rigid panels. These include wood, cotton and other natural components, mineral elements, such as glass and rock, and synthetics, like polystyrene and polyurethane.
How to choose
Choice will depend on constituent materials and their physical properties as a function of project requirements. Structural or decorative, the panel type must be chosen carefully.