The Online Architecture and Design Exhibition

contemporary armchair
EUVIRA by Jader Almeida
The Euvira rocking chair by Jader Almeida is a masterful blend of yesterday and today, lightness and solidity. With its precisely orchestrated flowing lines, thickening and tapering to form a pleasing rhythm, the chair is a signature ...

contemporary armchair
RAR
... myriad combinations of organically shaped shells and various bases in this large family of chairs: the iconic RAR (Rocking Armchair Rod Base). The compact rocking chair mounted on wooden runners adds a self-assured accent ...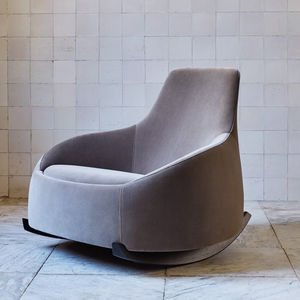 contemporary armchair
DIM SUM by Simon Pengelly
A number of studies demonstrate a rocking chair may actually do far more for physical and mental health as the relaxation provided by the rhythm of rocking also improves the ability to focus and concentrate. Aside from these benefits, ...

contemporary armchair
SAVEN
We designed Saven to provide ideal support for new mothers and their babies. You can adjust Saven's arms independently to easily find a comfortable position, and its gentle motion calms and soothes. But Saven isn't limited to this setting. ...

contemporary armchair
J16
Designed in 1944, Wegner 's rocker with the sensually curved arms was inspired by traditional Windsor and Shaker furniture, fused with Wegner's poetic lines. In 1939, FDB hired the 28 year old architect Børge Mogensen ...
See the other products
Fredericia Furniture

contemporary armchair
KANGOU
With its ergonomic design inspired on the classic rocking chair, Kangou is a modern rocking chairs especially designed to make the most of the relax experience. The perfect accessory is the matching footstool for a greater comfort. It ...
See the other products
Fama Tapizados

contemporary armchair
273 SLEEPY BLIND-TUFTED by Autoban
Sleepy is a modern interpretation of an amusing icon of our collective childhood: the rocking chair. The form is slender and sophisticated in premium solid hardwood, while maintaining the comfort and playful spirit of our earliest memories. ...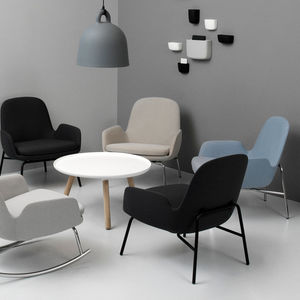 contemporary armchair
ERA by Simon Legald
MATERIAL: Shell: Hard moulded foam with steel reinforcement. Cushion: Soft moulded foam. Textile: Gabriel - Fame, Breeze Fusion. Sørensen Leather - Tango Leather. Legs: steel or chrome SIZE & WEIGHT: Hight: 103 cm Lenght: 72 ...

contemporary armchair
GICA by Eduardo Climent
Gica, rocking chair has simple and elegant shapes. It is an ergonomic and functional piece, with curved lines, of great simplicity and attractive design. Its apparent lightness holds a solid structure but with movement when the user uses ...

contemporary armchair
FOGO
An all-time favorite, the Fogo gliding chair stands out with its modern style and sleek profile. For total relaxation, combine it with its matching gliding ottoman. Also available with contrasting piping.
See the other products
DUTAILIER

contemporary armchair
BUTTERCUP
With plywood bent for beauty and comfort, the Buttercup Chair cradles you in swiveling recline. - Swivel base in brushed stainless steel or powder-coated steel - Shapely and comfortable bent plywood seat and back - White Oak: Rift-sawn ...

traditional armchair
FREMONT
Brown Jordan introduces Fremont Cushion Collection that blends modern simplicity with formal elegance. Designed for outdoor use in any climate, Fremont's finely crafted powder coated aluminum frame is virtually impervious to the elements. ...
See the other products
BROWN JORDAN

Scandinavian design armchair
BASKET
... gets noticed. Inspired by Scandinavian design, with curved, graphic lines for the enveloping back and armrests. The Basket armchair has enough personality to be striking on its own. It completes a conversation zone in ...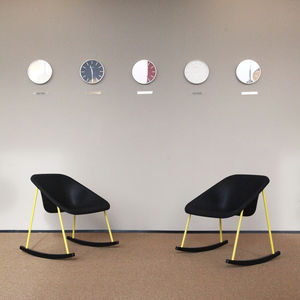 contemporary armchair
KOLA ROCKING CHAIR by Mikko Laakkonen
The award-winning Kola family includes a sympathetic rocking chair. Kola is aesthetically and weight wise a light chair making it fit both public and private modern interiors. The seat, manufactured of 100% recyclable polyester felt, ...

contemporary armchair
V5 ROCKER
This model of the version 5 rocker is an all-timber, mid-back version of the original version 5 leather sling rocker. Features include a solid timber frame, coopered seat, and carved back with mortise-and-tenon ...

contemporary armchair
DONDOLO by Franz Fertig
Rocking chair with straight back or as wingchair. Armchair and stool are equipped with rounded, smooth armrests and skids made of solid beech wood. On request, these are made of oak wood or walnut. Comfortable sitting ...

contemporary armchair
ROCK ON

contemporary armchair
PP124
The concept of rocking in a chair was common in the traditional furniture of the American Shakers. It is a wonderful way to relax, and with this plain and simple, yet luxurious chair, rocking becomes a sensual experience. With a distinct ...
See the other products
PP MØBLER

The armchairs reflect the antique artisan tradition: solid wood, high quality materials and elegance.

Elegant and timeless, the Breeze chair and egg table deliver beautiful aesthetics without relying on excessive detailing or ornamentation. Each piece is utterly anti-static, emphasizing their essence of sculpture and fluidity. Both maintain ...

original design armchair
BUCKY
... use this weatherproof, washable, and impact resistant armchair both indoors and outdoors and do so for a long time. The hollow interior makes it very light and easy to transport. The BUCKY lounge chair ...

traditional armchair
JOKE GREY
Dimensions Width: 67cm Height: 92cm Depth: 90cm

original design armchair
SWING by Moa Jantze
Limited edition of 20 pieces. Hand embroidering on wool in old technique. Dimensions: H:85 cm W:54 cm D:90 cm SD:44 cm Materials: Fiberboard (mdf) Finishings: Lacquered in colour Other: Wool Design: Moa Jantze, 2008 Price: from SEK 42.000

contemporary armchair
NANNY by Nanna Ditzel
Width: 60 cm | 23.7 inches Depth: 94 cm | 37.1 inches Height: 100 cm | 39.4 inches Seat height: 35 cm | 13.8 inches Weight: 6 kg | 0 lbs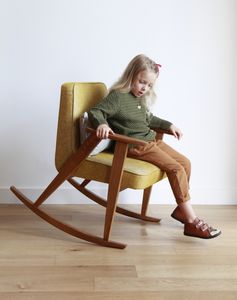 contemporary armchair
LOFT
The iconic 366 Easy Chair is now available also as a rocking chair. A great solution for young parents or those, who like to swing while reading a book. - Authentic design. - Only top quality solid wood. Available in 4 colours. ...