The Online Architecture and Design Exhibition

original design armchair
TETE-A-TETE ROCKER
made from Corian available in all colors by Corian. Height: 2'-6", Length: 5'-0", Width: 3'-6",

contemporary armchair
EGO
Rocking armchair\ seat and backrest with removable cover Wood species Ash Stain Beige Aniline – cod. SG Biscuit – cod. SC Moka – cod. HJ Dark Grey – cod. HK Wengé – cod. HL Carbon – cod. HP Upholstery Fabric, ...

traditional armchair
GONGOLO by Atelier Associati
The warm and reassuring sensation of being rocked in this round shape, well balanced, a familiar object linked to an ancient tradition

contemporary armchair
THE ROCKER
The Rocker preceded the Antelope chair and represented Ernest Race's re-imagining of a classic rocking chair. Though not a fashionable concept at the time, it has become a highly collect-able design icon. The Rocker ...

traditional armchair
LIVINGSTON
Livingston Chair displayed in Basalt Herringbone and Old Bard hide piping.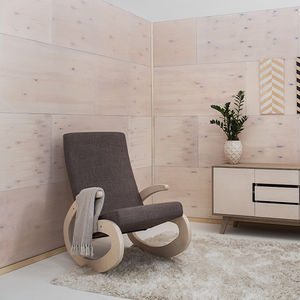 contemporary armchair
GEE by Raul Abner
... unquestionable! Rocker GEE width 63 cm, height 103 cm, seat depth 50 cm. Along with the parts of this chair you will also get detailed instructions and one tool pack with all the appropriate fittings. You can definitely ...

contemporary armchair
RNB by Pinar Yar Govsa
Dimensions : H83 / W71 / L103 CM Materials : Plywood, Water based paint

contemporary armchair
ROSALINE
... create a truly bespoke look. With its exposed solid wood frame that wraps around the generous barrel seat, this rocking rocker is supremely comfortable and versatile. Both Moms and Dads love this chair and it is sure ...
See the other products
Bunny & Clyde

contemporary armchair
MILLENNIUM PXD by Werther Toffoloni
WOOD: BEECH MEASURE (cm): height 108 seat height 49 depth 94 width 69 arms height 66 1 x box 0,70 cubic meter

Scandinavian design armchair
1961 by Niels Roth Andersen & Alderman
Designed in 1961, Helge Vestergaard Jensen's rocking chair is chiselled and skeletal. This single monocoque rocker has armrests that take the form of a forearm and wrist. Missing is a hand, inviting you to complete the ...

traditional armchair
FST0070
WILLOW ROCKING CHAIR 106x60x110cm Classic willow rocking chair. Natural dark brown colour. Handcrafted in Poland. Designed to add oryginal character to your interior.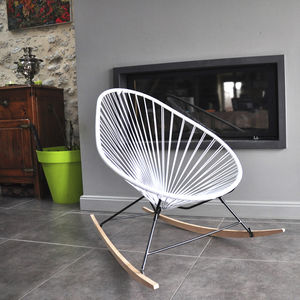 Scandinavian design armchair
ACAPULCO ROCKING
Taste the rocking chair version of the Acapulco Chair! In a nuersery or at home; enjoy and relax with your baby in your arm and feel simply good!Steel structure with black epoxy Plastic rope with high strength shape memory, 100% recyclable. ...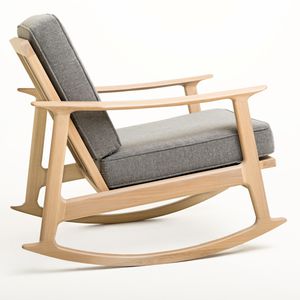 Scandinavian design armchair
EVELIN ROCKING
Rocking armchair with frame in solid oak and removable cover in fabric. Handmade in Europe. *Available in a wide range of colors & fabrics.

contemporary armchair
GAIVOTA by Renaud Bonzon
The emblematic part of the work of Reno Bonzon is certainly the rocking chair "Gaivota", probably the most rewarded creation in Brazil, combining at the same time aestheticism and ergonomy. Both Museum of the Brazilian House Prize and ...
See the other products
Objekto

contemporary armchair
DOLOMITI
with armrests, in old pine varnished pine, cushions excluded Dimension102 x 105 x 66
See the other products
Pircher

contemporary armchair
COUETTE-COUETTE
ROCKING COUETTE COUETTE * is a winter rocking chair. Sink into the giant cosy warm quilt and make it your own snug cocoon for the cold season. Turn over the two-tone upholstery when you want a change of colour. Easy to clean, the quilt ...
See the other products
wa. De. Be.

Steel Mesh with Powder Coated Finish Customization by material, fabrics & leather.

contemporary armchair
FIRST by Muller Van Severen
lacquered steel green/leather 65 x 81 x 60 cm 25,6 x 31,9 x 23,6 inch
See the other products
valerie_objects

traditional armchair
NONNA

contemporary armchair
EDUARDO 130
A fun and exclusive piece created by the designer upon the request of her husband and inspired by the casual and relaxed home lifestyle. It displays a structure of enveloping and elegant wood that accentuates its shape and provides comfort. ...

contemporary armchair
MAMA by Denis Santachiara
... relaxing and continuous lullaby in the welcoming embrace of a Mama, always there to comfort you" Denis Santachiara Rocking armchair with adjustable headrest. Supplementary covers are available Materials Stucture ...

contemporary armchair
JOY by Sara Larsson
The Joy rocking chair gives peaceful rest in a modern, clean and yet comfortable design. Solid wood meets leather and colourful or black pillows in a nice combination. Joy is available in two versions; Tärnsjö leather together with fabric ...

traditional armchair
CALYPSO by Kaki Kroener

contemporary armchair
DOMINO
Domino Swing is bringing a Scandinavian atmosphere for any interior! The ergonomic seating position ensures a relaxed presence.

traditional armchair
CL-985
See the other products
Yamakawa Rattan Japan Inc.