How to choose this product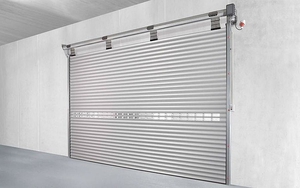 A roller shutter affords exterior openings security and protection from sunlight and bad weather. On ArchiExpo, these devices are categorized by properties including material or intended place of use.
Applications
In addition to residential use, such shutters are also found on commercial and public buildings to protect against theft or to prevent windows from being vandalized or broken.
Technologies
These shutters may be operated electronically via a digital key, by an electric switch or by an interior manual pulley system. Popular construction materials include stainless steel, PVC and wood. Some models are built into the lintel above the window or door, while others are installed separately. Certain window frames include an integrated shutter.
How to choose
Determine the shutter's primary purpose, e.g., security or weather protection. Consider the need for extra locking devices and if it will be opaque or transparent. Ease of maintenance and the ability to withstand vandalism are other factors.

Style, color and harmonization with the rest of the building may be important in the case of residential installation. While aluminum frames go well with concrete or industrial finishes, wooden shutters can add natural warmth and color to the exterior.