The Online Architecture and Design Exhibition

Height: 783, 520 mm
Width: 704, 475 mm
Item for interior lighting and roof access, made of PVC and with a polycarbonate surface lighting. Highly resistant to UV rays. Easy installation.
See the other products
Cobert

Height: 45 cm - 134 cm
Width: 64 cm - 160 cm
... following sizes: 70x55, 78x55, 98x45, 98x55, 98x78, 98x94, 98x134, 118x70, 118x114, 140x78,140x134,160x94. AWNING OPENING Simple window with mechanisms that don't require maintenance. The awning compass opening system ...

sliding roof window
CLASSIC
... slid almost completely over the roofing. These windows are also very popular as roof exits or light domes. Used as balcony exits, the windows provide new construction possibilities. The ...
See the other products
Baier GmbH

projection roof window
VELUX®
Height: 1,180, 1,400 mm
Width: 780 mm
IRFTS and VELUX®, the global specialist in roof window link together to offer you THE solution in photovoltaic integration. Benefit from a solution that combines the flexibility and the ease to install ...

See the other products
Pizarras J. Bernardos

tilting roof window
DOLETA MR-78
Profiles in thickness of 78 mm Units in thickness of 28 mm or 52 mm Three lines of sealing gaskets Various forms of internal decoration are possible Aluminium with special style pattern Uw up to 0.9 W/m²K


pivoting roof window
IGO E3
Category: Centre-pivot windows Tags: bioclean, double glazed, energy-saving, roof window, roof windows, toughened pane, wooden
See the other products
okpol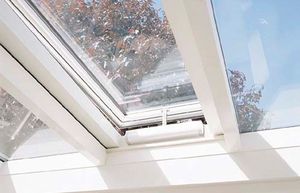 projection roof window
KOMET 55
Komet55 is our opening roof vent profile. As with the rest of the extensive product range these vents are built to the size and specification of your needs and designed to fully integrate with Sunparadise roof ...

projection roof window
ETHIQUE
See the other products
cast-pmr

projection roof window
EN12101-2
... more commonly installed. Any motor specified must provide sufficient power to support the maximum load that occurs when the window is opened fully. Chain actuators can be used but great care must be taken specifying a ...

projection roof window
PLB
The Inlux window PLB with bascule opening, is classic and elegant. Characterized by special hinges placed in the middle of the frame and allows the sash to be tilted to any angle of ventilation or rotation by 180° for ...
See the other products
INLUX

See the other products
F.lli Padovan

projection roof window
KOMET 55
The thermally broken profile system for roof-lights is applicable for the use in wintergardens as well as individually designed dome lights. The opening is conducted optionally via hand wheel or electric chain-drive.

projection roof window
WINLITE+
Insulated daylight and ventilation window for use in cold rooms - frame is made of aluminium - sash is made of spruce wood covered with powder-coated aluminium Roof pitch: 20° to 60° Clear dimension: ...

projection roof window
DELTALIGHT

projection roof window
SKYVIEW
... factory glazed with a 28mm argon-filled and soft coat low E insulating glass unit. With such a high-specification design and build it's easy to see why the SkyView surpasses Building Regulations with ...
See the other products
Sunsquare Limited

projection roof window
PURILAN
... skylights are available to suit tiled and slated roof finishes and are ideal for areas where ventilation and light is required through a piched roof. UNV - Tiled roofs L - Slate roofs Suitable ...

projection roof window
MEGALUX-GLASS FRAME
... your Skydome offers you the application of a MegaluX-glass frame. The window is composed of a double PVC frame equipped with 30 mm thick high performance (HR++) safety glass. The glass frame is available ...

projection roof window
ARCADE
... . Please note! Arcade rooflight systems with acrylic glazing are non-regulated construction products and, as such, need building authority approval. Approvals have been granted for ALL types of ESSMANN arcade rooflight.
See the other products
ESSMANN GmbH

aluminum roof window
SKYVISION
SkyVision roof light is an attractive roof light window allowing a maximum of natural light in a timeless, clean aesthetic design. The heat loss is minimal and the noise reduction optimum. ...
See the other products
VITRAL

... Loft roof exit. It is a roof exit opening to the side. Skylight Loft roof exit is based on the construction of the Skylight Premium roof window. ...

... skylights can be utilized in any glass structure, such as greenhouses and sunrooms. Whereas ridge vents are typically used in-system, an operable system can also be attached to an existing traditional construction roof ...

projection roof window
DALITE PREMIUM
The architecturally inspired Dalite Premium delivers maximum security and high insulation in a sleek, stylish design package. Tamper proof fixings are concealed beneath a modern aluminium security frame, and a secret lock system allows ...
See the other products
Icopal Limited

projection roof window
STARLUX
CO.IN. Starlux skylights are built using polymethylmethacrylate (PMMA) or polycarbonate (PC) compact slabs that resist against ultraviolet rays and are supported by CO.IN's exclusive aluminum alloy 6060 T5 structure that can evacuate ...
See the other products
CO.IN.