How to choose this product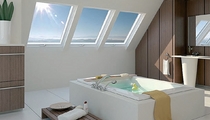 A roof window, or skylight is a great natural lighting solution for lofts or other spaces with limited openings. It is sometimes designed to serve as an emergency exit or maintenance access to the roof. On ArchiExpo, these items are arranged by properties such as type of mount, glazing, or special characteristics, such as sound proofing.
Applications
Such windows are designed for a pitched or a flat roof, and may pivot or slide open.
Technologies
PVC, aluminum, wood and other materials are used to make the frames.
How to choose
Professional installation should ensure compatibility with roof type and avoid leaks and structural problems. A light analysis can determine the most appropriate window size and type, number required and the cost of installation. Verify compliance with applicable thermal, acoustic, security and fire standards. Consider how the finish will affect the interior and exterior envelope of the building and be sure to obtain necessary building permits.