The Online Architecture and Design Exhibition

recessed downlight
MINI HOLE
Wall or ceiling led light with backward led souce, 220/240 Vac. Made of aluminum, HOLE has a new type COB LED, CRI > 80 at 3000°K; available in different light colors. High efficiency polycarbonate optics.
See the other products
GLIP The Lighting Partner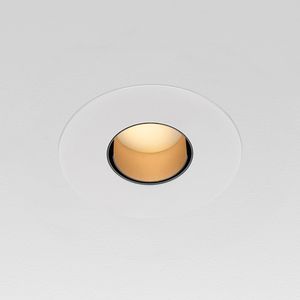 recessed downlight
2RP-WG
Round wallwasher/ grazer. Deeply regressed light source and angled kick reflector for even washing/ grazing from ceiling to floor. May be installed as flange overlay or zero-sightline flush, in configurations for insulated ...
See the other products
LUCIFER LIGHTING COMPANY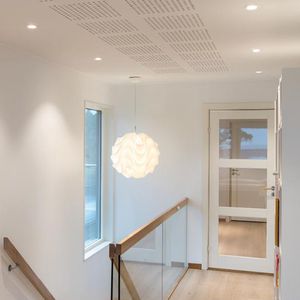 recessed ceiling downlight
JUNISTAR ECO ISOSAFE
Junistar Eco IsoSafe is a cost-efficient downlight for indoor use with a 42° light scattering angle and 30° bidirectional tilt. Made using pressure-moulded, powder-coated aluminium with a white surface and glass shade. ...
See the other products
SG LIGHTING

... laboratories, meeting rooms, offices and any environment where it is needed diffused lighting. The spotlight structure is round or square base, ideal for replacing equipment with compact fluorescent light sources. Installation: ...
See the other products
Relco Nord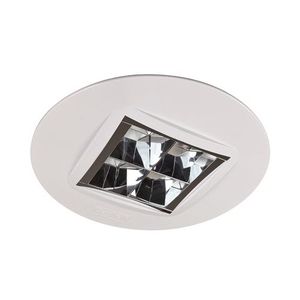 recessed downlight
D170/1150
The downlights with anti-glare optics A revolutionary fixture that allows great power of the light beam thanks to optics with controlled refraction. An innovative Downlight also in its multifunctional ...
See the other products
Beghelli

housing of aluminium and die cast aluminium Measures / Weights weight: 0.22 kg recessing depth: 58 mm ceiling thickness: 4-25 mm recessing diameter: 63 mm diameter: 80 mm height: 58 mm Protection Ratings / Certification Marks protection ...
See the other products
Hoffmeister Leuchten GmbH

surface mounted downlight
CANTARA : 190 DOWN C
Design Hand-blown interior glass, semi-gloss, for optimum light control Mounting, handling, security Internal solid glass attachment Design Handblown, clear cristal glass. Internal light-proof lacquering and hand coated with composition ...
See the other products
BRUCK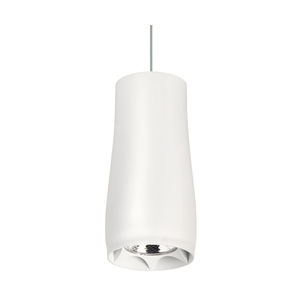 pendant downlight
ZIPAR II
DESCRIPTION MOUNTING Suspended (SSD) LIGHT SOURCE LED OPTICAL SYSTEM Facet reflector (FRE) BEAM ANGLE 24° 40° LIGHT DISTRIBUTION Direct WIRING Electronic control gear FIX / DALI (ECG / EDA) MATERIALS Cover: transparent hardened ...
See the other products
OMS, spol. s. r.o.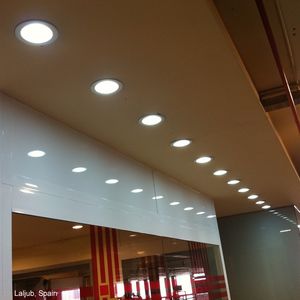 recessed downlight
CU-12W-WW-D

pendant downlight
ARM 20 SPIDER
See the other products
Aquaform lighting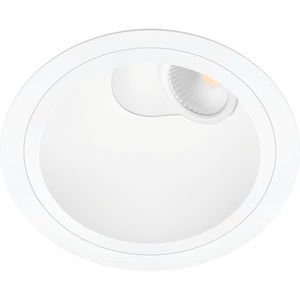 recessed downlight
POINTER
Pointer is a directional LED downlight for recess-mounting applications. With a fine and narrow bezel, it stands out for its minimalist aesthetics, its perfect integration into the ceiling and the possibility of being ...
See the other products
Arkos Light - Oscaluz,

The range of Neil 24 VDC downlights combines high performance and incredible compactness. The recessed optic offers utmost visual comfort. Revolutionary in dissipative, functional design, it offers the possibility to ...
See the other products
Flexalighting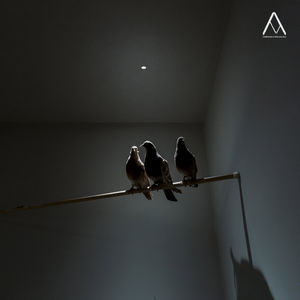 Davide Groppi, 2010 Metal Recessed ceiling lamp Nulla is an extreme work on subtraction. The light is investigated and presented in its pure physical aspect. The research into a "light without a source" drove me to consider the ...
See the other products
DAVIDE GROPPI

recessed downlight
TUBUS by OZ lighting
See the other products
MOLTO LUCE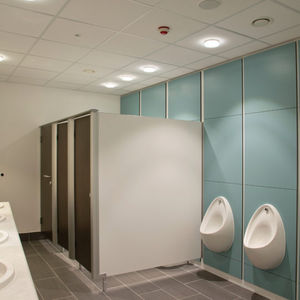 recessed downlight
ATOM PLUS
A compact & efficient LED luminaire. The 7W and 14W Atom Plus LED is a compact downlighter, available in a standard beam pattern. Supplied as standard with white bezel. Also available with an emergency battery pack for 3hr duration. Features ...
See the other products
ASD Lighting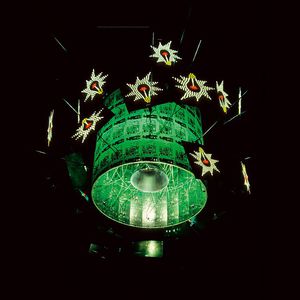 pendant downlight
LICHT.ENSTEIN
Limited edition. Circuit board, LED, metal, stainless steel. Light source LED, Halogen downlight. Technical data on request. Technical data For 230 or 125 volts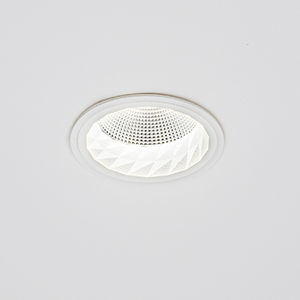 recessed downlight
ATSJI by Skwon
The fixture is designed by Skwon, a Belgian Ghent based design office. ATSJI is a spotlight with a polygon pattern interior. Instead of an anonymous spotfixture, the ceiling gets a playfull and subtile detail. Like Lucy's diamonds in the sky.

recessed downlight
INPLANA LED & ONPLANA
MANY VERSIONS Thanks to several versions, three construction sizes in each case and the option of ceiling or wall mounting, the series covers the various lighting requirements in the office sector ALWAYS READY IP54 version for installation ...
See the other products
TRILUX France S.A.S

... Glossy aluminum. - Ring: the standard model includes white ABS ring. Available in different colours and materials. Our downlights always include unbreakblame supports according to patent nº U20D01754 and ballast holder box.

surface mounted downlight
EKLEIPSIS
Indirect light, ceiling-mounted LED product in three different sizes. Winner of Design Plus Award. Designed for both outdoors and indoors. The product's design and the advanced technology of its reflected light optic systems offer an ...
See the other products
Cariboni Lite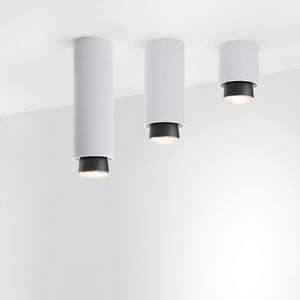 surface mounted downlight
CLAQUE F43 by Marc Sadler
The ceiling lamp Claque is a technical lighting fixture that guarantees great performances in terms of light output. It is especially suitable in modern environments like work and office spaces. It is also functional and practical for ...
See the other products
FABBIAN ILLUMINAZIONE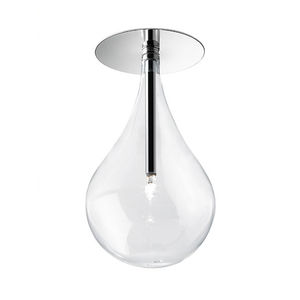 surface mounted downlight
DROP by Cristian Cubiñá
The DROP pendant collection is a classic by Alma Light, one of its flagships, its most well-known luminaire. It stands out above all for its famous transparent glass in the shape of a drop and for its great variety of models. What ...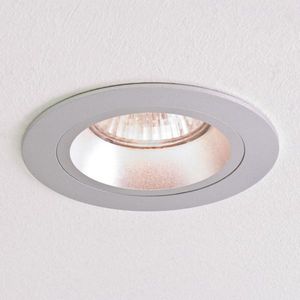 recessed downlight
TARO FIRE RATED 5671
Finish: Brushed Aluminium Lamp Included: No Lamp Type & Wattage: 1 x 50W Max GU10 IP Rating: IP20 Bathroom Zone: Zone 3 Class: Class I - Earthed Driver Required: No Dimmable: Yes Switched: No Fire Rated: Yes Dimensions: H ...
See the other products
astro

BODY'S is a rather ceiling-bound pendant with two sources of light and thus has a double illuminating effect. A linear halogen lamp provides an uplight effect, flooding the ceiling with indirect light, the hand-blown glass body is filled ...
See the other products
TOBIAS GRAU

surface mounted downlight
DOT by Carmen Ferrara
Designer Carmen Ferrara Primary voltage 220-240 V Dimmer type Phase cut Typology Finished product Gross weight - Kg 1,6 Net weight - Kg 1,3 Depth - mm 140 CRI N/A Energetic class C / E Setting Indoor Application type Ceiling More Information Socket ...
See the other products
Leucos srl