How to choose this product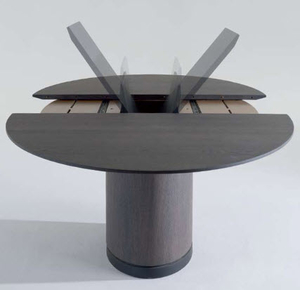 The round table's absence of corners offers a safety advantage in busy environments. The shape affords the same amount of space to each person seated at the table. Pedestal models free up even more leg room. On ArchiExpo, such furniture is categorized by properties including style, special features and materials.
Applications
Such a table can constitute a great focal point or complement to indoor or outdoor spaces. The size may vary according to function, the space available or number of people to be accommodated.

Large round tables are common banquet halls, office meeting rooms and even in educational environments. Smaller versions are used for side, coffee or discussion tables. These tables may be folding, stackable or have extensions. Small models could also be used as seating.
How to choose
Consider placement and intended use. Ensure that it is the appropriate height and does not crowd the space. Choose suitable materials. While finish and appearance may be important in residential or luxury environments, sturdiness and ease of maintenance often take precedence in commercial settings.

Outdoor models should be made from weatherproof materials that resist corrosion. Style can be chosen to complement the decor, including matching chairs and other furniture, or to stand out as a centerpiece.
Disadvantages
- Difficult to place against a wall