How to choose this product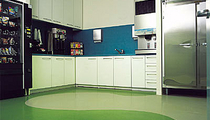 Rubber flooring may be chosen over other types of flooring for properties such as its slip resistance, impact resistance, sound absorption and ease of maintenance. It may be synthetic or natural.

On ArchiExpo, rubber flooring may be categorized by properties such as usage or special properties.
Applications
The impact resistance and anti slip qualities of rubber flooring may make it ideally suited to sports activities such as flooring in the gym, play areas for children, sports grounds or even health facilities. Available in a wide range of colours and forms, they may be especially suited for creating floors with logos or motifs. Some rubber floors may be especially designed to be anti-slip, high resistance, anti-vibration, have low VOC emissions or be made from recycled rubber.
How to choose
When choosing a rubber flooring, consider how it will be installed (whether it is tiled, in sheet form or granulated. Consider which properties are necessary for usage and how much maintenance is required. For example, public buildings such as schools may require floorings with a high impact resistance, chemical resistance and low maintenance, which can stand the test of time.