How to choose this product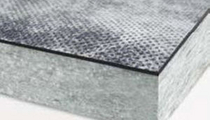 Rubber insulation installed beneath wood, tile or other types of flooring, reduces the transmission of impact noise. ArchiExpo offers a wide selection of rubber insulating items, including rolls, panels and other rubber-based products to enhance interior acoustic comfort.
Applications
This material is found in all types of buildings, including homes, offices and stores.
Technologies
Rubber insulation constitutes a somewhat resilient base layer used to dampen noise transmission between two rigid layers, such as a concrete subfloor and a tiled floor. It can be glued in place or floating, depending on project needs. Some types have additional thermal, mechanical and anti-vibrational properties.