How to choose this product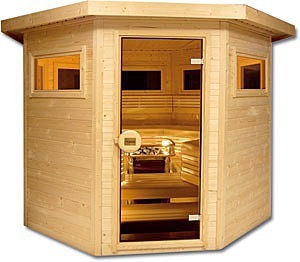 A sauna offers healthful well-being and relaxation in a convivial ambiance through exposure to high heat, dry or wet.
Applications
Saunas provide relaxation and well-being, but also have medical uses, including pain reduction. They are appropriate for a wide range of people, barring contraindications. Saunas are common at spas and health resorts, but are occasionally found in apartment buildings and houses.
Technologies
The traditional sauna consists of a small wooden structure with benches and an electric, gas or wood stove. Folding or portable saunas can fit into a carrying case. They are ideal for travel or for dwellings where limited space prevents installation of a permanent model. Economical prefabricated saunas are made of easily-erected panels. Combination models include the features of a sauna, hamam (Turkish bath) and shower with hydro-massage.
How to choose
Choice will depend on available space, budget and intended use, including travel, home and professional models.
Advantages
- General relaxation
- Muscular relaxation after exercise
- Bodily detoxification