The Online Architecture and Design Exhibition

contemporary screen
MOUCHARABIEH
The elegant screen, designed specially for Poltrona Frau, boasts a pattern of polygons of various shapes and sizes. The structure is made up of frames with aluminium profiles, the corners strengthened by steel and plastic. ...

contemporary screen
BY-SIDE by Patricia Urquiola
See the other products
BISAZZA

Made of fine pinewood strips that have been vertically aligned, Screen 100 can be rolled up for storage and rolled out to form straight lines or fluid curves. The screen can be used to divide rooms or ...

contemporary screen
BRICK
... her skills over the course of many years. Brick Screen is one of her best-known creations. She experimented with various dimensions and panel finishes. More than just a room divider, this folding screen ...
See the other products
CLASSICON

contemporary screen
ALFRED by Numéro 111
The ALFRED screen, comprising a felt-covered panel and a wooden frame, sculpts space with its play on fullness and emptiness. These two elements come together to create a piece which can be used wherever desired. Frame ...

... of their experimentation with moulded plywood, Charles and Ray Eames designed a variety of objects, including the Folding Screen. This room divider is composed of six plywood elements with a high-quality top veneer of ...
See the other products
vitra

contemporary screen
MIRO by Francesco Bolis
... Mengoni conceived it in 1865. The matter is: how can you transform a picture into an object? Maybe by laying the image on a screen that offers, unexpectedly, a mirror on the rear side, a "triptych" mirror designed to ...

Screen made from 36 plastic snowflake-shaped elements. The interconnection of various basic modules allows compositions of different dimensions. Structure made of anthracite plastic material (ABS).

contemporary screen
ALGUE
Algues are interior design components and decorative elements at one and the same time. Reminiscent of plants, the plastic elements can be linked together to form weblike structures – from light curtains to densely solid room dividers. ...

contemporary screen
LAN by Neri&Hu
Measures 180x40x160h cm / 71''x16''x63''h Fiber composition 100% new wool. Oak wood in matte finish and thermo-lacquered steel frame. Technique Mix of technics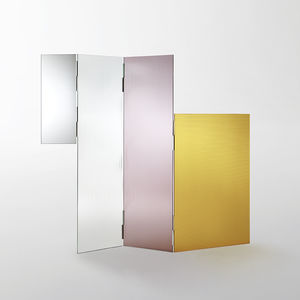 contemporary screen
RAYURES
Modular screen with hinged panels in laminated and tempered Flutes glass in exclusive yellow and lilac colour or in neutral or "transparent coloured glass" range finishes. It is available also a mirror to be placed at ...
See the other products
GLAS ITALIA

item number 300-300-120 material metal colour green product dimensions L44xB4xH190cm designer pols potten studio finish powder coated iron frame with gold painted legs weight kg 22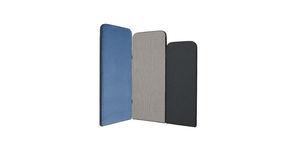 Diva is a screen made by Arflex to create small intimate corners. The panels that compose it, have different sizes and can be made following his own needs. The cover can be realized withdifferent kind of fabric and each ...
See the other products
Arflex

traditional screen
TEA ROUTE PRINT
Misha silk screens retrace the ancient oriental tradition of "Byōbu", lightweight and long-lasting, finely hand painted traditional Japanese screens. The name "Byōbu" means "protection from the wind", ...
See the other products
Misha wallcoverings

traditional screen
MASTER: DAMIR
tinted solid wooden screen, brushed stainless steel details
See the other products
SMANIA

contemporary screen
SHADE by Marco Zito
Shade, as in the Japanese meaning of "divider". Saba has restyled this item in a contemporary rethink and found it a place in the living area. Shade is a filter, a divider, a compact system created by constructing spaces, decorating, ...

contemporary screen
EIERMANN by Egon
... Parliament. This was built between 1965 and 1969 and be- came the landmark of Bonn and the young Ger- man democracy. The screen was manufactured again in a small quantity at the occasion of the Cologne Furniture Fair ...

traditional screen
PAPER PATCHWORK by Studio Job
Paper Patchwork by Studio Job is a new member of Mooois renowned Paper Collection family, which celebrates classic forms and a material with infinite potential: paper.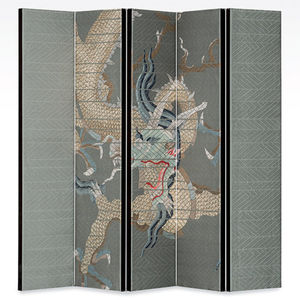 THE DECORATIVE MODULAR SCREEN IS MADE UP OF 5 ANELS LINED WITH THE NEW 2015 SPECIAL DRAGON FABRIC. THE DRAGON FABRIC FEATURES AN UNIQUE DESIGN WHERE AN ANCIENT DRAGON MOTIF HAS BEEN COMBINED TO A MODERN GEOMETRIC PATTERN. ...

contemporary screen
SUZY WONG
The Suzy Wong collection is inspired by the tall and romantic screens found in traditional Oriental houses. Woven panels create a feeling of intimacy as conversations are exchanged over coffee or tea. Materials Indoor abaca, ...
See the other products
Kenneth Cobonpue

contemporary screen
WALLIS : IC.F.210.01 by FG stijl
frame beechwood stained mahogany 10% gloss FM beechwood stained walnut 10% gloss FA beechwood stained wenge 10% gloss FW glossy black lacquered ref. Ral 9017 60% gloss LG greyed beechwood 10% gloss FG upholstery com fabric TC com leather ...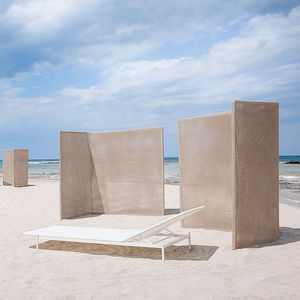 contemporary screen
ABRI by Francesco Rota
... on soft surfaces Upholstery: fixed cover available in Thuia fabric. Note: central screens cannot be used alone, but must be always combined with left and right screens.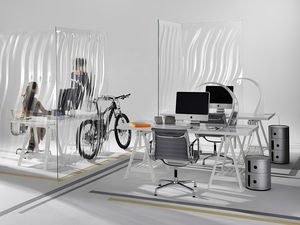 contemporary screen
LASVIT LIQUIDKRISTAL by Ross Lovegrove
Lasvit Liquidkristal (LLK), designed by Ross Lovegrove is a new product from Lasvit's Glass Architecture Division. Lasvit Liquidkristal is the result of an innovative process that the designer defines as "high precision heat transfer." ...
See the other products
LASVIT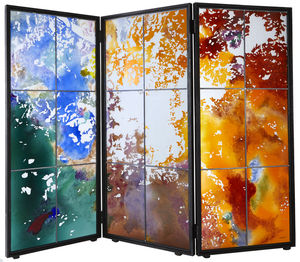 contemporary screen
CANOPEE by Jean-Paul Agosti
See the other products
Fort Royal

contemporary screen
EMPIRE
See the other products
MUNNA