The Online Architecture and Design Exhibition

contemporary screen
CLARO
Solid claro walnut slabs Saddle leather hinges 8' H x 15' L Custom sizes available

traditional screen
M 4710
200L x 250H Collection Guadarte classic furniture is timeless and elegant. They are products of time and many of his pieces are icons decoration. Each item is made by hand, you can be customized and is available in a wide range of finishes.

contemporary screen
VANILLA by Alessandro Crosera
Vanilla is a self supporting room partition, padded, upholstered in fabric. The available two-colors combinations are: almond and gull grey; cedar yellow and tobacco; gull grey and tobacco.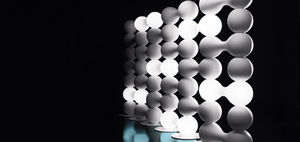 contemporary screen
BAGIGIO by Simone Micheli
A modular element, unique yet capable of being joined with anything without limits, a threedimensional representation of the symbol for infinity, born from the revolution of the symbol around is axes and at the same time a spatial macro ...
See the other products
Myyour

traditional screen
1904 : TX009
Combining solid oak, aged metal and cast aluminium, 1904 refers to the workshops of the early XXth century and to the dawn of the industrial era. Dimension : Length 183 cm Height 168 cm Depth 20 cm Length 72 ¼ in Height 66 ¼ in Depth 8 in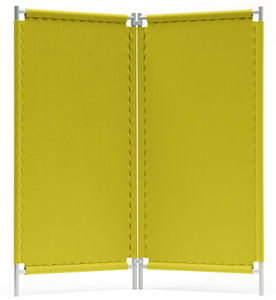 contemporary screen
PLAIN by Bernadette Ehmanns.
Felt mounted on a metal framework, aluminium coated, black or silver colour. Design: Bernadette Ehmanns. The two-piece basic modul is variably extendible with additional elements. Size of one element: 80 cm x 160 cm or 80 cm x 180 ...
See the other products
Hey Sign

contemporary screen
RIGO : RIPARO by Giancarlo Pretazzoli
Form, substance, essence A screen made up of four rectangular shiny or satin steel frames, Riparo is linked together by hand-made, low-impact stainless steel hinges and a satin finish floor plate, creating the perfect ...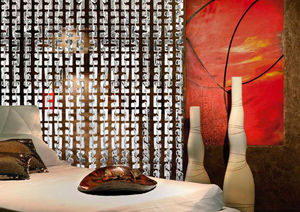 contemporary screen
ARIEL
... nine different finishes, metallic, opaline or transparent, allowing you to create real textures with inserts in contrasting color or finishing. The modules can be disassembled and reassembled in ever new dimensional ...
See the other products
POESIA Div. di Nuova Vetreria Resanese S.r.l.

contemporary screen
FRAMES
Room divider with structure in peeled and tinted natural rattan 34 mm/1.34" diameter. Screen manufactured in tinted natural wicker (dutch wicker). Protective plastic caps.

Separator with frame in painted tubular steel with adjustable feet and screen in full grain leather finished on both sides, composed of 40 x 40 cm squares modules sewed one another.

Style:Decò Details: Tempered glass, Black and gold leaf decoration Dimension: cm. 335 x 192 h rn132 x 75¼" h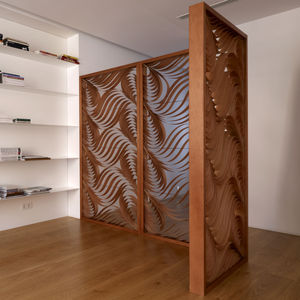 contemporary screen
PAISLEY by Luis Eslava Studio
... natural and artificial light, the Paisley screen's weaving and flowing patterns cast exquisite swirling shadows that delight the eye. With its Zen-like quality and delicate woodwork, the prepossessing Paisley screen ...

See the other products
SPINI

contemporary screen
REFLECTIVE FIBRES
Salt. is a custom designer creating textile artwork specifically to achieve the lighting and textural effect to enhance your space.

classic screen
FRM ETH SK 3017
Central Javanese antique screen -Early 20th century. -Originally the screen had fabric stretched in its frames. -Painted teak -Sculpted with floral motifs and Wayang (theatre) characters. Dimension (L/H/P) ...
See the other products
MATAHATI

Divider: Mode in wood, ink walnut finish. L 54 H. 168 Divider: Mode in hand-decorated wood. L54H. 168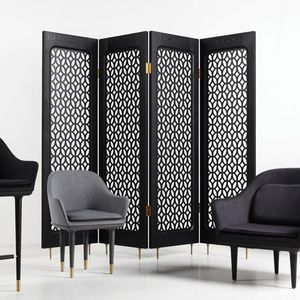 contemporary screen
LUNAR by Space Copenhagen
CODE: LN-SN100DIMENSIONS: W2406 x D35 x H2000mm MATERIAL: Solid wood frame, MDF, Brass plated stainless steel
See the other products
STELLAR WORKS

original design screen
STELLAR
... the award winning Stellar Collection - the Stellar Screen is inspired by the precious qualities of naturally forming amethyst geodes and machine cut diamonds. The large expansive surfaces on the screen ...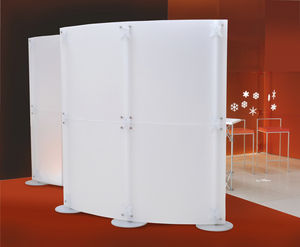 contemporary screen
FLUOWALL WHITE CURVED
Fluowall is an innovative modular system suitable for creating partitions for environments, divider structures and backdrops. Modern, exclusive design, bright colours, curving shapes: thanks to these essential features, Fluowall dividers ...

contemporary screen
TRANSITION
viscose, oak wood | 4 panels of 120 x 8 x 225 cm | 2014 A quadriptych inspired on the change of seasons. The end of a season means cleaning up and preparing for the next one. It empties your mind and gives space to new ideas. New ideas, ...
See the other products
Kiki World

contemporary screen
UNPAPER by Julie Conrad
Inspired by the art of origami, Unpaper is a screen which unfolds in the form of a fan or a wave depending on the requirements of the space it is intended to. Tyvek® is an ecological and sustainable material, which confers ...

contemporary screen
By Federico Pepe
Screen produced in lacquered metal and stained glass. The pattern recalls a pyramid under the sun, where the "spines" are rays of light. The screen is part a capsule collection inspired by the windows ...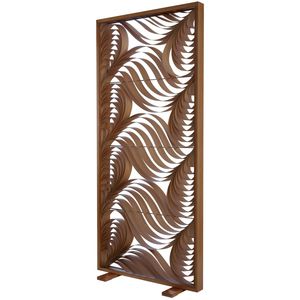 contemporary screen
INFINITY : 001784 by Luis Eslava
... which creates a full-fledged decoration. It is possible to put several screens together by a joint system, put them on the floor of hang it up with two steel ropes (not included). COLOR Honey FEATURES Material: ...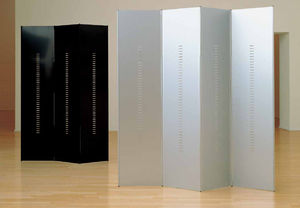 Height 180 cm / width per element 45 cm / aluminium anodized colourless or powder-coated in signalwhite, black, blue or colour of choice / elements can be combined as required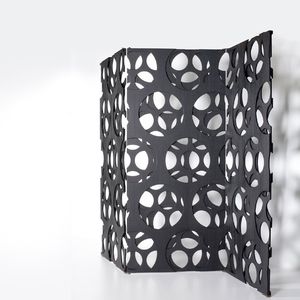 contemporary screen
MOON by Carlo Ballabio
... wooden elements, keeping a decorated transparency in dynamics sensations of looking through thanks to this new characteristic screen. Done by 3 wooden hinged panels, each one composed by 2 or 3 layers decorated with ...