The Online Architecture and Design Exhibition

contemporary screen
SCREENS
We offer custom cardboard and wood screens for home or commercial use. Frames may be wall-mounted, hinged for use as a free-standing room divider, or used as part of a track system.


traditional screen
TATAMI
4 panel wood and rice paper Screens , to make the most of your space. Height about 180 cm. Width of each panel 45 cm.
See the other products
Cinius

contemporary screen
LUCHINO
Screen with stained solid wood oak structure. Two-faced panels upholstered with fabric or leather. Bronzed brass insert. Bronzed metal hinges.

contemporary screen
LITTLE
... . Color: White, grey and vintage pink, natural Patagonian wood. Shipping: krethaus@krethaus.com Descriptions: This little screen is perfect to mark out your kids playing space, to create a story or simply to tidily keep ...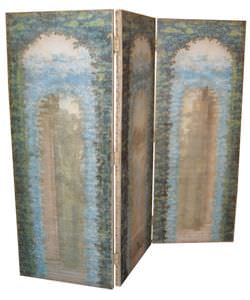 See the other products
PROVENCE & FILS

contemporary screen
SWAMP
To show, to organize, to divide, to hide: this is the mission of Swamp units.They freely match each other, easily fitting into outdoor and indoor environments.The straight or curved elements and the rustling reeds chase each other creating ...

contemporary screen
SHADE by Marco Taietta
... poetry which conceals and reveals, divides and enchants just line a Byōbu, the Japanese folding screen. Shade is an unprecedented customisable modular folding screen with panels in various colours which ...

original design screen
BIBA by Kenneth Cobonpue
Stemming from the inspiration of vibrant spiders and insects, rattan vines are carefully hand-dyed and tied to a highly durable metal frame and highlighted with black and orange accents.
See the other products
Hive

contemporary screen
LEONIDAS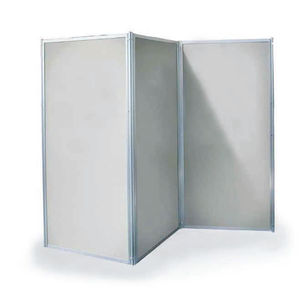 contemporary screen
VALVA
Partition walls are usually required only temporarily. Valva offers the opportunity to make multiple use of space, since it can be quickly assembled and taken apart. Moreover, it takes up minimal storage space. Valva's frame and connecting ...

classic screen
TWIST : 2883
double opening hinges - finishing : painting and silver/gold colored sheet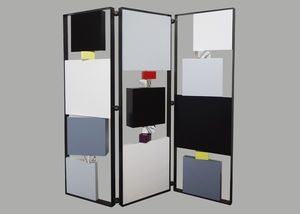 contemporary screen
TOURNIS-PIED by Sandrine Reverseau
... integrates stone elements in the folding screen in with extra rotations. They suggest the timelessness of the nobility of this material and create an element of surprise by the unusual use of stone in a folding screen

contemporary screen
POP SEPARÈ
Divider/folding partition. Natural cardboard finish. Metal base on request (white finish).
See the other products
Kubedesign

contemporary screen
RAINBOW
... captures the essential magic of light that its 32 painted glass craft projects transforming the places they inhabit. As a screen of Impressionism, Mooet-style parades and vibrant colors combined with a sparkling elegance ...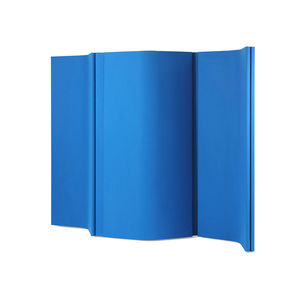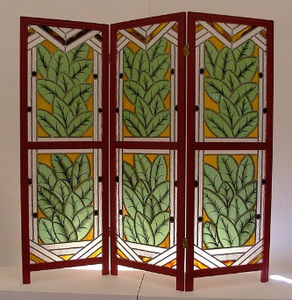 contemporary screen
LIMBUSFLOOR
LimbusFloor Subtle is a family of floor screens with a modern, light expression. The screens are robust with extra good sound absorption. The legs in solid wood are inspired by traditional trestles and ...
See the other products
GLIMAKRA

traditional screen
HF-411
Original screen seen at a portrait photographer at the beginning of the XXth century. It as used to separate the photography studio from the shop. It was used as well as a display stand to show the photographer's work, ...

contemporary screen
LWAZI
Lwazi Folding Screen is a raw design piece, which beauty comes directly from the high quality and unique wood veneers used in its creation. This folding screen fits perfectly in any modern house interior, ...

contemporary screen
HAWA 2 by Charles Kalpakian
... sand has shaped oblong shapes of the screen Hawa. Oriental influences mingle with modern lines, leaving the southern light squeezing through the panels. Material Medium wood lacquer, walnut or polished metal Screens ...
See the other products
Dar en Art

contemporary screen
QUINTA FLOREALE by Terri
The Quinta and the Lampada Floreale are unique objects with a special design, fun and elegant they enrich an indoor or complete an outdoor space, as in a game they fit anywhere. The Quinta Floreale creates privacy and paths, the Lampada ...

contemporary screen
PANNELLI: 220×230
Fiera Habitat – Catania Pannello – 220×230 –600W Two-pin Knikerboker LED on request

contemporary screen
CUSHION

contemporary screen
PLISSE by Moschino
Modular metal walls or free-standing dividers reveal intricate geometries obtained on aluminium through complicated processes of cold pressing.
See the other products
Altreforme