Sectional garage doors
How to choose this product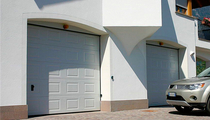 A sectional garage door consists of several articulated panels. Highly practical, it opens by rolling up along an overhead track or laterally along a wall.
Applications
More expensive than hinged swinging doors, these space-saving models are ideal for use in cramped quarters.
Technologies
Such doors can be opened manually by pulling on a handle, cord or chain, or electrically, via a wall-mounted button or remote control. The latter may be opened by hand in case of a power outage. Aluminum, iron, steel, PVC, wood and other materials are used to manufacture these doors.
33 companies | 130 architectural and design products
1 products ALAPONT BLUE GIANT
1 products BATOR
Steel
BATOR
A new product from BATOR: Sectional sliding doors and telescopic sliding doors. The basic frameworks for...
1 products IDOMUS Ltd.
Steel
IDO-HOME

IDOMUS Ltd.
Producing by individual dimensions sectional door panels - german orogin 42 mm thick sheet steel panels filled with polyurethane foam door panels construction protect...
1 products ALULUX
Aluminium
DETOLUX

ALULUX
Detolux is the ORIGINAL among the overhead doors with convincing comfort equipment. The door can be opened and closed comfortably from the inside of the car. At the push of a button on the radio remote...
1 products FEAL Croatia Ltd.
Aluminium
FEAL Croatia Ltd.
The optimal solution for closing of the garage facilites The walls are made of zinc protected plastified tin with the fill...
1 products Verano
Aluminium
Verano
In the sun protection line as well as the garage doors range, safety, quality and comfort are paramount. Garage...
2 products CMM - La Maison du Portail
Filter by :
› New products

(1)

› Products with video

(11)
Extend the search
Search by catalog
Associated Terms
garage sectional doors