Security bollards
How to choose this product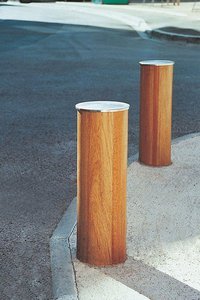 Security bollards are a common feature of the modern urban scene. They separate vehicular traffic from areas reserved for pedestrian use.
Applications
These devices are widely used in public spaces where certain zones are reserved for pedestrian traffic. Pedestrian areas at roadway level require the installation of discreet, sturdy protective elements to distinguish the two zones. Along the narrow streets of historic city centers, bollards are more practical than elevated sidewalks.
92
companies |
580
architectural and design products
For public spaces
CPM Group Ltd
CPM offers high quality precast concrete bollards in four sizes with a smooth finish. The bollards are suitable for providing an effective...
For public spaces
GURAD POST

IDOMUS Ltd.
A versatile portable bollard available for a wide variety of uses can be filled with ballast to increase stability or can be attached with fasteners into a floor, dock,...
Filter by :
› New products

(1)

› Products with video

(15)
Extend the search
Search by manufacturer
Search by catalog
Associated Terms
design security bollards